review policy
Hello and welcome to Bookish Blades. You may prior know me as "Kat from Minas Morgul". My name is Kat and I read and review books in English and German.
Are you an author or publisher and want to send me a book for review purposes? Then please continue reading below.
!!! I'm currently not taking on any more review copies !!!
If I've worked with you previously, you may still contact me and I'm sure we can figure something out!
What books do I read?
Young Adult, New Adult and Adult Fiction is okay.
I prefer fantasy or contemporary, but I also like science-fiction, historical fiction and romance.
Cook or Baking Books are okay as well.
I will consider books more closely if they have LGBTQ+ representation. I am an OwnVoices bisexual reviewer.
I do not accept crime, thrillers, horror or erotica, nor any non-fiction books except cooking or baking.
I read books in German and English. While I prefer physical copies, I wouldn't deny a request for an ebook just because of its format.
How do I review?
I always give my honest opinion, wether I liked the book or not.
I focus a lot on world building and characters, since this is where my focus usually lies.
I try to write constructive reviews and give a reason for everything I feel.
I try to write reviews as soon as I can. Reviews for ARCs will be published close to the release date but can be sent over earlier if needed.
I will always include photos of physical copies and a picture of the cover for ebooks.
How do I rate books?
I use the well-known five star rating system. The only difference is that I use swords instead of stars.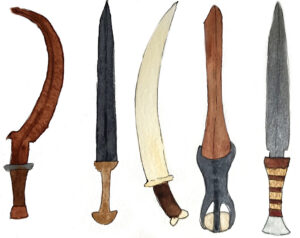 1 sword = I didn't like the book at all.
2 swords = I did not enjoy the book but liked some parts.
3 swords = I enjoyed the book but had some issues.
4 swords = I really enjoyed this book.
5 swords = I LOVED this book.
What other services do I provide?
In case you want to work with me or want something additional to a review, I am open for
author interviews
cover reveals
quote letterings & watercolour art
blog tours
playlists
bookish recipes.
Interested? Then please contact me at minasmorgulbooks@web.de ! Please mind these criteria. If you won't, I will most likely either decline or not answer your request. Before contacting me, please note that I am based in Germany.