I received this copy of How to Kiss Your Best Friend from the publisher via NetGalley in exchange for an honest review.
I really don't know why I put off reading How to Kiss Your Best Friend for so long. I've been in a romance mood for months now and I LOVE the friends to lovers trope. I finally did read it though and I'm wondering even more now why I did not read it sooner.
Synopsis:
Kate Fletcher is my kryptonite.
She's also my best friend. Former best friend?
I'm not sure what you call it when we grew up attached at the hip and then she left Silver Creek (and me) to travel the world.
The important thing is: Kate is back. (Temporarily.)
And I'm still in love with her. (Permanently.)
But something is different now. The attraction doesn't seem one-sided. I don't think I'm imagining the heat in Kate's eyes or the chemistry crackling between us.
But will that be enough to keep Kate here, when, for as long as I can remember, all she's wanted to do is leave?
I'm determined to give her a reason to stay. Family. Connection. Roots. And me. I'll have to start with sparks and fire, but if I take this step, there's no turning back to simple friendship. And if she doesn't feel the same way, I might lose her again—this time for good.
Book: How to Kiss Your Best Friend | Series: Hawthorne Brothers #1 | Author: Jenny Proctor | Publisher: Four Petal Press | Genre: romance | Pages: 288 | Release Date: 24.05.2022 | TW: loss of loved ones (in the past)

When a book already starts with him admitting once again that yes, he is in love with his best friend even though they haven't spoken in years, it can only be a good book. Brody is just sat there, obsessing over a message from his best friend, Kate, while his brothers go "not again" and me, being the romance reader I am, going "ah, good for him". When it comes to romance, it's all about the way the characters find each other in the end. And it was so well done in How to Kiss Your Best Friend.
"He feels like home, trriggering a craving for something I didn't think I'd ever want again."
When Kate returns to her hometown, the first thing she does is surprise her best friend. They haven't been in contact for years, she doesn't know how he'll react. But then they meet and it feels like it always did. Like coming home. But there's something more, too. And exploring the whole past of the two of them, while also getting to know other sides of each other was so much fun. I really enjoyed how Kate and Brody work together, how they have their own little rituals, all the things that bind them together somehow. They have shared so much with each other in their past, their lives so intertwined they can't really separate even if they tried.
I loved these little moments. They were written so well and felt very natural and authentic. I could imagine them growing up very well, as well as their relationships with the town and its people.
The two of them seem to be very different but have the same goals. They're both a bit afraid and I enjoyed so much how they handled their fears. Listen. There was no miscommunication drama. The two of them were honest with each other and while some of those things might have been difficult to accept for the other, I loved that they were honest nevertheless. I liked them talking things out and admitting to what they want but also why those things are scary.
I loved them finding their way and having their whole story written out. They are a wholesome, wonderful couple and I loved them.
"You managed to hold my heart captive when you were twenty countries away and not event rying."
I also loved their families. I loved the Hawthornes and their farm, both the glamour and the difficulties and the unconditional love for each family member. I loved the brothers sticking together and helping each other out with (almost) no questions asked. But I also liked Kate and her little, somewhat broken family and how they find to each other despite all their troubles of the past.
I read How to Kiss Your Best Friend in two sittings and enjoyed every second of it. This is such a warmhearted, lovely and wholesome story about growing your roots and finding your people. It is about accepting yourself and learning to live with your emotions and your fears. I definitely plan on reading the other books in the series as well as Jenny Proctor's other books!
Rating: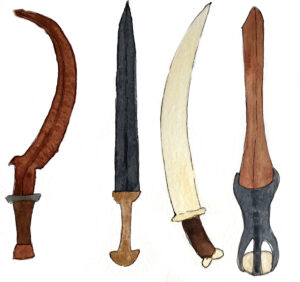 ---
YOU MIGHT LIKE HOW TO KISS YOUR BEST FRIEND IF YOU ENJOY…
friends to lovers trope | he falls first | best friends to lovers | big wholesome families | small town romances | summer romance | finding your roots | good sibling relationships
---

Do you like the friends to lovers trope? Which is your favourite book with this trope? Do you prefer small towns or big cities?
---
Can't get enough of Friends to Lovers? Then check out this list of books featuring the trope.
---
Until next time,