Hoohoo, friends.
I'm late for this post. But since the last few weeks were very busy, I just did not have time to do anything in my bujo really. And then August was already here and I did not even have a title page. So I sat down today and made most of the spread for this month. And because I like the outcome, I'll share it with you. I hope you enjoy 🙂
---
I tried working on the title page while on vacation in Poland, so I had at least some sort of idea before starting. But actually, the calendar on the next page was the first thing I did. And because I wanted to do something purplish-blue on this page, I wondered what theme would go well with these colours. And my boyfriend gave me the perfect idea when he said "blueberries". And so, the theme for my favourite month became berries. On the title page I put different berries, the calendar/birthday page is themed around blueberries.
---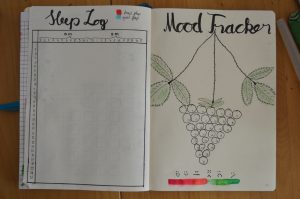 Then follow several trackers. First comes the sleep log, where I will put down the amount of hours I've slept, when I went to bed & woke up, and if I slept good or bad as well. My mood tracker is in berry-form this month, each day I will colour in how I felt, where the redder it gets, the better I felt.
---
Then come smaller trackers for things like pages read per day or if I did anything for uni or drank enough water. Then of course there is the book page. As each month, I'll write down the books I got (no matter if I bought them, found them, got them as presents…) and also the ones I read with a rating.
---
And at last, there are the weekly spreads. I kept them quite simple, with just a few doodles of one berry for each week. To be honest, I've not quite finished that part yet, because it was just too much to do in one day. There will be more pages be added to this month, like a memories page. But since the month has only just begun, I'll do them later.
---
And that's it. I hope you enjoyed this little tour of my August and I hope I'll see you next month.
Love,
Kat