When I heard about From Fake to Forever the first time, I just knew this book would be something I enjoy. I mean, fake dating is among my favourite tropes, it's set in one of my favourite cities and it just sounded like a lot of fun! I was even so happy when I was approved on NetGalley to read it. But did it meet my expectations? Continue reading to find out!
---

Synopsis:
Love was never part of the deal…
Jiya Ahmed has a dream: she wants to complete her MBA and get a job in the city. The problem is that her parents think it's high time she put her books away and focused on becoming good wife material – but surely there's more to life than finding the right boy?
Ibrahim Saeed has a goal: he wants to avoid marriage but more specifically, he wants to avoid the arranged marriage his father has planned for him. Why would he want to end up like his (clearly unhappy) older brother with a partner of his father's choosing?
Ibrahim's cheeky brother introduces them with the perfect setup: a fake relationship to stall their parents. As they embark on their plan, the attraction they set out to fake starts feeling all too real … but love was never part of the deal.
Book: From Fake to Forever | Author: Laila Rafi | Publisher: Orion Dash | Published: 27.06.2022 | Pages: 310 | Genre: Romance | Rep: Desi MCs & cast | Read: 29.06.22-01.07.22
---
REVIEW OF FROM FAKE TO FOREVER
Note: I received this book from the publisher via NetGalley in exchange for my honest opinion!
This book's premise had everything I love, yet I didn't love it as much as I thought I would. I wanted to love it but then it took me ages to get into. My biggest problem were the two main characters and their dynamic. While I really liked Jiya, I just couldn't really warm up to Ibrahim.
I loved Jiya from the first time she appears and verbally but playfully and confidently tells off her best friend and youngest Saeed brother, Harry. Jiya is such a warm, big hearted person who puts her family first even though she doesn't feel right about it and wants to do something for herself. She knows exactly what she wants and thanks to Harry and Ibrahim the possibility to get it is in reach.
Ibrahim on the other hand is calmer and more serious. While he thinks he knows what he wants, he seems to be unsure about it all the time. His character didn't really leave an impression with me and I was constantly finding myself annoyed with him for some reason. To be honest, I kind of wish this book would have featured Jiya and Harry as a couple. Even though From Fake to Forever portrays their strictly platonic friendship in an amazing way, they had such a good dynamic, that was all around more believable than anything Jiya and Ibrahim had going on. They just had the chemistry.
I have to admit Harry might have been my favourite character in the book and I found him to be so much more interesting than Ibrahim.
I did enjoy the different families though and how the dynamics within them worked and were written. I loved that they were chaotic and difficult and complex but so full of love for every member of them. I liked that they had their problems but when it mattered they stuck up for each other and helped when necessary. I loved their similarities and differences.
From Fake to Forever is quite a short book so I was prepared for a fast pace. Instead I got a slow beginning before the story picked up only to deflate again. The pacing was just off to me, and sometimes dragged so much for me to get a bit bored.
All in all, From Fake to Forever was a quick, easy read. While I enjoyed some parts, it mostly wasn't for me unfortunately. I really do wish I liked this more because the concept of it all was great.
Rating: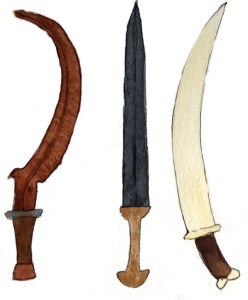 ---
YOU MIGHT ENJOY THIS IF YOU LIKE
fake dating | London | food descriptions | complex family dynamics | stories with siblings
---

What's your favourite fake dating romance? Which trope can you simply not get enough of?
---
Until next time,