Hoohoo, guys!
I'm very excited to bring you an interview with the wonderful Helen Scheuerer today! Helen is the author of the Oremere chronicles and A Lair of Bones which will be released on July 15th. You can read my review for A Lair of Bones here. And without further ado… let's head right into it, shall we?
---
---
1.How would you describe Lair of Bones in 3 words?
Morally-grey. Action-packed. Magical.
2. What inspired you to write this story?
In my previous books, The Oremere Chronicles, there was a lair of bones. I always knew I wanted to explore that setting more and it wasn't until War of Mist wrapped up that I realised a whole new adventure awaited me. From there, the ideas surrounding the lair and the cyrens who ruled it seemed to snowball.
3. You've already written and published another series, the Oremere Chronicles. How has yourwriting process changed over the years?
I like to think that it's developed a lot since then. Nowadays, I know I need to outline and so I spenda decent chunk of time prior to actually writing doing just that and lots of brainstorming. I've come to learn that these stages of the process are just as important as actually putting words on the page.
4. Music plays a huge role in Lair of Bones. Is it also an important part of your life?
You're absolutely right, music is such a vital part of cyren culture in the book. As for me… I've never been one of those cool kids who knew about the latest bands and such, but I suppose I have a quiet passion for film scores and instrumental music more than anything. Pianos, violins and orchestras, which is the sort of music the cyrens in the book revere.
5. Do you listen to music while writing or do you prefer it to be quiet? Do you have a writing playlist?
I definitely listen to music more so now than I ever did, particularly to get myself in the right headspace for certain scenes. I've had the Outlander soundtrack on repeat for the last few months now. I actually do have playlists for each book.
6. How much of yourself do you put into your characters?
My characters are never based on people in real life, but I imagine tiny characteristics of myself andthe people I know likely slip in from time to time. However, A Lair of Bones, more so than TheOremere Chronicles, has a bit more of me in it. The main character Roh, is incredibly ambitious and that stemmed from my own goal setting and the ultimate question: how far would you go to get what you want?
7.Are you as crafty as Roh, the protagonist in Lair of Bones?
Definitely not as crafty!
8.If you were a cyren in Saddoriel, what sector would you belong to?
Probably the run-of-the-mill average Mid-Sector.
9.Because I love a little this or that….
◦ music or crafting? Music.
◦ fiddles or the piano? Ohhh too hard! Depends on my mood!
◦ the sea or the forest? Another hard one… Let's go with forest.
◦ a big feast or dinner with close friends? Definitely dinner with close friends 🙂
Thank you so much for this interview, Helen! 🙂
---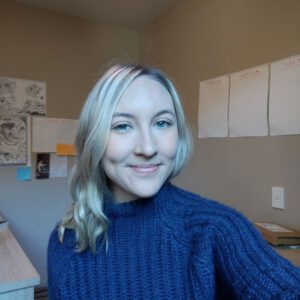 About the author:
Helen Scheuerer is the YA fantasy author of the bestselling trilogy, The Oremere Chronicles and the Curse of the Cyren Queen quartet. Her work has been highly praised for its strong, flawed female characters and its action-packed plots.Helen's love of writing and books led her to pursue a Bachelor of Creative Writing at the Universityof Wollongong and a Masters of Publishing at the University of Sydney. Now a full-time author, Helen lives amidst the mountains in Central Otago, New Zealand and is constantly dreaming up new stories. Readers can receive the three FREE prequel novellas, Cyren Queen Origins via Helen's website: www.helenscheuerer.com
Find Helen on Facebook | Twitter | Instagram
---
About A LAIR OF BONES:
A deadly contest. A vaulting ambition. How far will one cyren go to win?
Mighty cyrens have ruled the ancient lair of Saddoriel for centuries. A cavernous fortress, a subterranean labyrinth of tunnels and levels, powered by magic and music…
From the moment she was born, Roh, the daughter of an infamous criminal, has been despised by her own kind. Restricted to the Lower Sector and forced to work as a common bone cleaner, she has always believed she belongs above: where lies adventure… and power.
Opportunity arises in the form of the Queen's Tournament, a treacherous set of trials that could see the victor crowned ruler of the entire lair. Up against the most cunning, dangerous cyrens in all the realms, does Roh stand a chance? (goodreads)

---
Until next time,