WERBUNG / ADVERTISEMENT
I received a copy of this book from the publisher in exchange for an honest review.
---
---
Just in case this wasn't clear, I love Becky Albertalli's books and writing. So of course I had to get my hands on a copy of Kate in Waiting as soon as possible. Read on to find out if this book lived up to my (fairly high) expectations.
---
What is it about?
Contrary to popular belief, best friends Kate Garfield and Anderson Walker are not codependent. Carpooling to and from theatre rehearsals? Environmentally sound and efficient. Consulting each other on every single life decision? Basic good judgment. Pining for the same guys from afar? Shared crushes are more fun anyway.
But when Kate and Andy's latest long-distance crush shows up at their school, everything goes off-script. Matt Olsson is talented and sweet, and Kate likes him. She really likes him. The only problem? So does Anderson.
Turns out, communal crushes aren't so fun when real feelings are involved. This one might even bring the curtains down on Kate and Anderson's friendship.
Book: Kate in Waiting | Author: Becky Albertalli | Publisher: Penguin | Published: 22.04.2021 | Pages: 387 | Genre: contemporary romance,  YA | Rep: Jewish MC, gay Black best friend, gay side character, trans side character, Jewish side characters, Mexican side character | TW: bullying
What did I think?
To make one thing very clear from the beginning: yes, I enjoyed this book immensely. Yes, my expectations were met. Actually, I'm just gonna go ahead and speak my truth: this is my favourite Becky Albertalli book.
For one thing, it was just so. Much. Fun. The dialogues? The sarcasm? Witty banter between friends and family? All of that just made me laugh, giggle, and smile so much. Reading Kate in Waiting was so easy and fun to read.
I loved the whole atmosphere of the book. I was a theatre kid at school, too. And while German schools are vastly different from American schools (sorry, I still only understand like 50% of what's going on over there), I know those feelings. The giddiness, the role one desperately wants to play, the tension, the rehearsals after school, the drama of it all. In my opinion, Albertalli really managed to get that theatre / musical feeling across and wow, do I want to be in a play again.
Let's have a closer look at the characters, shall we? Yeah, well, what can I say? I loved them. Individually, yes (especially Noah, that guy deserves rights. And also Ryan), but what really got me were the relationships and dynamics. While romance is such an important topic in Kate in Waiting, so is friendship. This focus on Kate and Anderson's friendship and how it is just as important as their romantic relationships was beautifully written. They love each other so much and they also discuss romantic and platonic love and how they feel about those things and what they mean for their friendship. I just *clenches fist* need to see friendships like this in literary works. Friendships are so, so important and this focus on romantic love as the "one true love" can be quite annoying.
I enjoyed this friendship so much, the love between them but also how that bon between them is strained when romantic love threatens to come between them. Kate is constantly torn between wanting to support Andy and having her own feelings. They both mess some things up but at the end of the day, their friendship is just so good and strong and filled with unconditional love.
Since this book is written from Kate's perspective, we also get to see her relationships with other people, like her brother Ryan, or their friend Noah. Ryan is actually such a cinnamon roll and while Noah is such a dumbo from time to time, he also is a cinnamon roll.  But in general, the characters were all well written, they were always respectful and asked for consent.
There was no unnecessary drama. I mean, there was a lot of drama, but none of it unnecessary. It felt realistic, there were reasons for the drama and I really enjoyed how it was solved.
The only thing I didn't like was the use of fuckboy / f-boy on basically every second page. But I'm just going to ignore that because it's such a minor thing and otherwise, I loved Kate in Waiting so, so much. It's definitely a highlight this year!
Rating: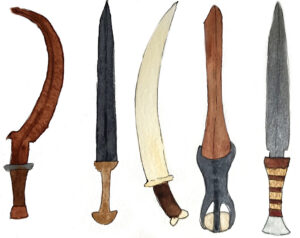 Thanks so much to Penguin for sending me a copy of the book!
---
---
Until next time,