I picked up Perfect on Paper by Sophie Gonzales on a whim (because it is very orange, let's face it) in the bookshop and then started reading it almost immediately. I expected a nice, fun, maybe slightly dramatic YA but what I got was so much more. Cntinue reading to find out what exactly I found.
Synopsis:
Everyone in school knows about Locker 89. If you slip a letter in outlining your relationship woes, along with a fiver, an anonymous source will email you with the best advice you've ever gotten.
Darcy Phillips, a quiet, sweet junior, is safe in the knowledge no one knows she's the genius behind locker 89. Until Brougham, a senior, catches her.
The deal Brougham offers is tempting: in exchange for his silence-and a generous coach's fee to sweeten the deal-Darcy can become Brougham's personal dating coach to help him get his ex-girlfriend back.
And as for Darcy, well, she has a fairly good reason to want to keep her anonymity. Because she has another secret. Not too long ago, she abused locker 89 to sabotage the budding romance of her best friend, Brooke. Brooke, who Darcy's been in love with for a year now.
Yeah. Brooke can't find out about that. No matter what. (goodreads)
Book: Perfect on Paper | Author: Sophie Gonzales | Publisher: Hodder | Published: 11.03.2021 | Pages: 348 | Genre: YA contemporary romance | Rep: bi MC, Vietnamese-American lesbian side, gay Korean-American side, trans side, many queer side characters | TW: internalized biphobia, alcohol, vomit, cheating
What did I think?
The perfect book doesn't exist. But the perfect book for me does exist and it comes as Perfect on Paper. I don't even know where to start, I just love this book so, so much and it fills my heart with love and joy and the sense of being deeply understood, of finding a home in a book.
This might sound cheesy maybe, but seriously, this book hit me. Hard.
The themes in these books were so well executed. The whole book revolves around relationships and attraction; platonic, romantic and sexual. And all of them are developed, spoken about and taking different views and needs and wants into account. Through Darcy's side business, as well as her conversations with friends and especially family, there is a good sense of honesty and healthy communication, in general but especially within relationships. I loved how this was a constant in the book, also in contrast to dishonesty. It just felt right and on point.
What hit me the most was the bi rep, though. I myself am bisexual and while my journey is very different to Darcy's, the internalized homophobia surely isn't. There is this one part of the book where Darcy brings this up, where she says she often doesn't feel like she belongs. I've had crushes on women multiple times but I've been in a relationship with a man for several years now and came to terms with my sexuality within that time and I always felt like I'm not bi enough. And reading all that in a book, a character that feels like me and then hearing the acceptance of everyone else in the room? It opened something in me, made me feel better at the same time it made me cry.
While I think I have found to myself and am accepting myself and am even proud of who I am, I wish I could go back and tell my younger self that I'm not alone with this. That there are so many other people like me. That I can see myself in books one day. Just that this chapter even exists makes me so happy. I can't stress enough how important it was for me to read this, both Darcy's words and others' acceptance.
Something else that resonated with me were the family problems Perfect on Paper deals with. When I say I felt all the topics and themes in this book, I mean it. There is just so much in this book that rang in my core and made me feel. so. much.
And if you wonder, yes, I also loved the characters. All of them. I loved Darcy, I loved her sarcastic, supportive older sister, her mother who is stressed af but still full of advice, the love interest who is basically just a cinnamon roll, too pure for this world, bottling up his feelings and emotions. The best friend, helpful and there. The queer community.
It is safe to say that this story is now a favourite of mine and I will reread it. It's only been a day since I finished it but I already hold it dear. I am so glad I decided to get this in the shop and read it immediately. I encourage each and everyone to read it.
Rating: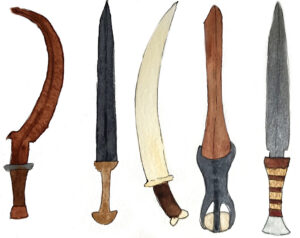 Other books with bi rep:
– Lucky Girl by Jamie Pacton (review)
– Daughter of the Burning City by Amanda Foody
– The Gilded Wolves by Roshani Chokshi
– Leah on the Offbeat by Becky Albertalli
– The Brightsiders by Jen Wilde
– Radio Silence by Alice Oseman