What first struck me about The Foxglove King was its gorgeous cover. I fell in love with it the minute I saw it. And the synopsis sounded really interesting as well and I had a feeling that this book would be something right after my taste. Continue reading to find out if The Foxglove King lived up to my expectations.

Synopsis:
When Lore was thirteen, she escaped a cult in the catacombs beneath the city of Dellaire. And in the ten years since, she's lived by one rule: don't let them find you. Easier said than done, when her death magic ties her to the city.
Mortem, the magic born from death, is a high-priced and illicit commodity in Dellaire, and Lore's job running poisons keeps her in food, shelter, and relative security. But when a run goes wrong and Lore's power is revealed, she's taken by the Presque Mort, a group of warrior-monks sanctioned to use Mortem working for the Sainted King. Lore fully expects a pyre, but King August has a different plan. Entire villages on the outskirts of the country have been dying overnight, seemingly at random. Lore can either use her magic to find out what's happening and who in the King's court is responsible, or die.
Lore is thrust into the Sainted King's glittering court, where no one can be believed and even fewer can be trusted. Guarded by Gabriel, a duke-turned-monk, and continually running up against Bastian, August's ne'er-do-well heir, Lore tangles in politics, religion, and forbidden romance as she attempts to navigate a debauched and opulent society.
But the life she left behind in the catacombs is catching up with her. And even as Lore makes her way through the Sainted court above, they might be drawing closer than she thinks.
Book: The Foxglove King | Series: The Nightshade Crown #1 | Author: Hannah Whitten | Publisher: Orbit | Published: 07.03.2023 | Genre: Fantasy | Pages: 501 | Rep: bi main side character, wlw side characters | TW: blood, murder, death, manipulation, drugs, dead bodies

Review:
I was both very confused and intrigued in the beginning. I had no idea where this was supposed to go from there and how the world worked but I let myself fall into the story, hoping for the best. The world building and especially the magic system aren't highly complex, but explaining and understanding each aspect certainly is. It took some time for me to understand how the gods and religion works and what Mortem is and how people work with it.
But I found it to be quite interesting and really enjoyed how deep the magic is rooted within the world and how the different characters use it, fear it, want it. The more I read about the magic, the more it fascinated me.
I also really liked the divide in people, or, I liked how it was written. There is the ignorant, rich aristocratic high society and all the rest, made up of traders, smugglers, workers. The book focuses especially on thieves and smugglers and I liked that perspective a lot, making the whole city seem darker, more desperate, grittier and dirtier, yet very atmospheric.

I also liked the main character Lore. The book is written from her perspective and she has a really good narrating voice. Due to her upbringing and what she has experienced in life, she seems older than she is, yet in some things she is still naive and discovering new things. There are many facettes to her and I liked seeing each one, I liked how she plays roles, both for herself and others, using her experience and knowledge of humans to get what she wants.
What I found interesting, maybe not quite believable in this context was how she acted around certain other characters. I don't want to say too much, but she is supposed to be able to read other people very well and to determine their characters, so I didn't really understand why she, almost blindly, trusts some characters.
Bastian and Gabe couldn't be more different. Bastian is definitely my favourite character in The Foxglove King. He is the prince, seemingly carefree, clever and fun to be with, wether it's for a night or for a cup of tea. But there is so much more to him. He cares deeply about the country and his loved ones, he's incredibly smart and knows his way around both court and the underbelly of the city. He's full of hope for a better world and of determination to fight for it, trying to do what's right.
Gabriel on the other hand has a stick up his ass. I'm sorry to say it like that, but I was quite annoyed with him most of the time. And yes, my favourite parts were those where he lost control over his composure.
Together, the three of them make up a very unlikely trio in which nobody truly trusts the others, where everyone keeps well-guarded secrets and has their own goals. I liked their back and forth, all the new discoveries about the world they live in and they make about each other. On the other hand, the back and forth was somewhat tiring (especially if Gabe was involved, sigh).

The Foxglove King is the first book in The Nightshade Crown series and has an intricate world building, a complex and fascinating magic system with beautifully written, yet not necessarily likeable, characters. If you like dark fantasy, difficult character relationships and stories that brim with tension, this book is definitely for you!
Rating: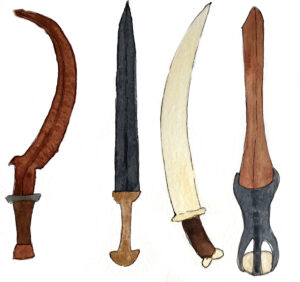 ---
YOU MIGHT ENJOY THIS BOOK IF YOU LIKE…
dark fantasy | enemies to something more | found family | characters with a dark past | complex magic systems | necromancy | slightly scary scenes | court intrigues | poisons | complicated romance
---

Have you read The Foxglove King yet? Or anything else by Hannah Whitten? Do you have a favourite magic system?
---
Until next time,