Hoohoo, guys!
I saw this idea with Never Not Reading and The Orang-Utan Librarian and thought it would be super fun to do this myself! Because let's face it, I love character quizzes wayyyy too much and once started, I'll do one after the other. So this was the perfect opportunity for me to just go for it. I changed it up a bit, though, because I wanted to include my absolute favourite books as well. At least those I could find quizzes for. Check out the other's posts and do it for yourself because it's fun (unless you do a Grisha-boyfriend one and get Mal, then it's all madness and anger, oop). Anyways, let's do this!
---
Six of Crows
I reaaaaally hope I'll get Nina because I love her but let's see.

Ok well. I don't think I'm much like Kaz but ok I guess.
---
Rick Riordan verse
Just give me someone from the Kane Chronciles and I'll be forever happy!
Yayyyyy Carter!! He's actually a character I always felt is a lot like me so this quiz got it right!
---
The Lord of the Rings
My best friend call each other Frodo and Sam because we're very similar to them, so I hope I'm getting Frodo (it'll probably be Pippin because all I care about is food but let's see).

I… I did not see that coming.
---
Pride & Prejudice
Will I get Darcy? I kinda feel like I'd get Darcy?

Ok, Bingley would have been my second choice for me. Maybe he even fits better than Darcy now that I think about it?
---
Folk of the Air
Please don't let it be Locke please don't let it be Locke please don't let it be Locke. Or Taryn.

phewwwwww I got who I wanted.
---
An Ember in the Ashes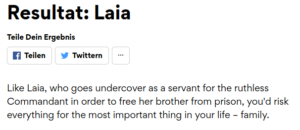 I GLADLY TAKE LAIA.
---
All for the Game
To be honest, no matter who I'll get I'm not entirely sure about? But I still hope I'll get Matt lol.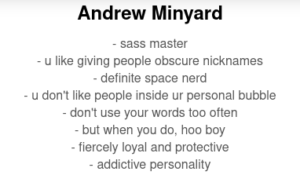 Ok, this is ok. I love him. But what does this say about me ?
---
Red Rising
Pleeeease let it be either Mustang or Sevro, pleaseeeee.

YAS.
---
Red, White & Royal Blue

I won't say no to Bea. Not who I thought I'd be, but I'll take it.
---
And that's it for today! I hope you had as much fun as I did. Will you do the quizzes? Do you like character quizzes as much as I do? Who would you have been in these books?
---
Until next time,