Hoohoo, friends of the blade!
I had Chasing Lucky on my shelves ever since it was released. I'm not sure why I haven't picked it up earlier since I absolutely love Jenn Bennett's YA contemporaries (more on that in my list of auto-buy authors). But I finally read it within two days and as always, Jenn Bennett really doesn't miss.
ABOUT CHASING LUCKY

Budding photographer Josie Saint-Martin has spent half her life with her single mother, moving from city to city. When they return to her historical New England hometown to run the family bookstore, Josie knows it's not forever, so there's no reason to change her modus operandi—keeping to herself, dreaming of the day she can leave.
But after a disastrous summer party, a poorly executed act of revenge lands her in big-time trouble. As in, jail…alongside the last person with whom she'd want to share a mugshot: the son of the boat mechanic across the street, Lucky Karras. Outsider, rebel…and her former childhood best friend.
Josie and Lucky become the talk of their coastal small town. But during a summer of secrets, everything changes, and the easy friendship they once shared grows into something deeper and more complicated. Can Josie and Lucky swim past obstacles that come with rough waters, or will they both go down together?
Book: Chasing Lucky | Author: Jenn Bennett | Publisher: Simon & Schuster | Published: 11.06.2021 | Pages: 406 | Genre: YA contemporary romance | TW: preying on minors (mentioned, in the past), alcohol, slutshaming
CHASING LUCKY REVIEW

As I already mentioned, Jenn Bennett doesn't miss in her YA contemporaries. She isn't one of my favourite authors for nothing. I got into the book very quickly and loved diving into the story of Josie and Lucky and discovering more and more about them and their families. Since I read this book on the train, the summery atmosphere of the book really my life and got me into a vacation mood. I really enjoyed Chasing Lucky.

I loved the atmosphere and whole feeling of the book! It's set on a Rhode Island seaside town, Beauty, during the summer months. The protagonist and her mother return to Beauty and the book really brings across the summer vibes full of tourists, but also a certain melancholy and there are always conflicts just around the corner. Everybody in town knows everybody and it's really well written how Josie searches for her place in Beauty and within the family and the community. It all mixed together to an atmosphere like hot summer day that you thoroughly enjoy but you know there will be a thunderstorm in the evening. It was both laid back and relaxed but still with a bit of tension beneath.
I adored Lucky! He's known in the gossip mills of Beauty as a bit of a bad boy who rides motorcycles and has several children with several women. But really, he rides motorcycles and is an absolutely sweet and caring boy who loves his cat and his family and also Josie. Lucky has such a big heart, beautifully dry humor and a very creative brain.
I also really liked Josie. She is on the search for her place. For a big part of her life she moved around with her mother, only returning to Beauty once a year for about a day. She wants and needs stability but she also loves her mother. Returning to Beauty brings back many memories for her and she slowly falls in love with Beauty. And Lucky. While she searches for a place for herself, she also discovers a lot about her family and Beauty and I loved getting behind those histories with her.
As in most Jenn Bennett books, the characters have really cool hobbies. Lucky has a thing for metalwork. Josie loves photography, especially taking photos of signs. On top of every chapter we get the photo descriptions from one of Josie's photographs which I really liked! Both of them are a bit peculiar about their crafts and I love how much they both enjoy them and the other's.
"We need art to remind us that the struggle is worth something."
p. 116
Lucky and Josie's relationship was one of my absolute favourite things in Chasing Lucky! I really enjoyed how they have to get to know each other again. They were childhood best friends before they were ripped apart and haven't spoken again for years. Now they see each other again and all the friendship and love and grief and anger between them resurfaces. I really liked their development and how they both fit into each others' lives. Trust and honesty plays an important role in their relationship which I absolutely enjoyed!
The family situations were wonderfully written. Big families without any conflicts, rich families, fractured families, all of them in different situations. I loved how each family had something special to them, how not every family is perfect but how each of them manages to get by. Chasing Lucky talks a lot about communication and how family dynamics can change through it. I really enjoy reading about complicated families and the Saint-Martins were really well written.

Can't think of anything I truly disliked. LOVE THAT FOR ME.
---
---
Rating: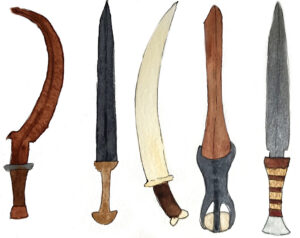 ---
---
YOU MIGHT ENJOY CHASING LUCKY IF YOU ENJOY THE FOLLOWING
childhood friends to lovers | complex families | summer romance | and they were stranded
---

And that's it with my Chasing Lucky review. Have you read a Jenn Bennett book? What other books with a childhood friends to lovers romance can you recommend?
---
Until next time,