WERBUNG/ADVERTISEMENT
Hoohoo, guys!
This is my first ever cover reveal and I'm so excited and thankful I could be a part of this. I've been looking forward to reading Little Black Bird ever since Anna Kirchner (@rattletheshelves on Instagram) first talked about it and I'm so happy that we now have a cover and I can share it with you all!
But first: about the book and the author: Anna Kirchner grew up in Poland and has lived in several countries before settling down in Sweden. Little Black Bird is the first in a series inspired by the folklore of Anna's homeland. The story follows Wiktoria who has magical abilities and discovers sorcerers are living in her hometown. With not much at hand she has to fight demons and evil sorcerers. The book has own voices ace/questioning rep!
And without further ado, let me show you this stunning cover (designed by Karolina Wucke / IG: @wucke.illustration) & the synopsis: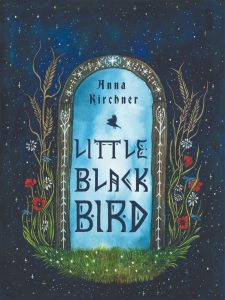 Book: Little Black Bird | Series: Little Black Bird #1 | Author: Anna Kirchner | Publisher: Gurt Dog Press | Release Date: 20th June 2020 | Genre: urban fantasy YA | TW: sexual assault, internalized acephobia | violence, alcohol, murder, kidnapping
Synopsis:
Magic is dying out, but it will not disappear without a fight.Wiktoria is a seventeen year old with a secret: she has psychic powers. Her uncontrollable telekinesis hurts her and others, setting fires and throwing objects in the air, no matter how hard she tries to hold it back. All she wants to have is a peaceful, average life, but it's difficult when you've been cursed to destroy the magical world.
Her carefully maintained facade of normality starts to unravel when she's hunted down by local sorcerers and their Guardian, and accused of unleashing banished demons back into the human realm. When a murder shakes up the magical community, everyone agrees that the only way to save the world is to kill Wiktoria.
Her only ally is a boy who can read her mind, shares her dreams and makes her question her sexuality. Together, they face mythical creatures and uncover ancient legends, and they soon realize that there is no such thing as simply good or evil. Whether they break the curse or allow it to fulfil its destiny, the magical world will be forever changed.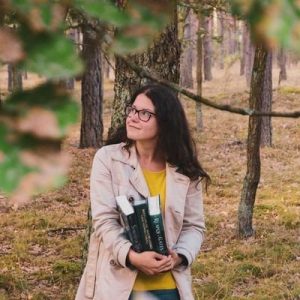 About the author:
Anna grew up in Poland and lived in a number of countries before settling in Sweden. She spends more time in imaginary worlds than in the real one. She grew upon a mixture of Polish legends and original Grimm fairy tales, which she channels into fiction. She's a proud Hufflepuff and a dog lover. She is easiest to find on her Instagram, where she talks about books and goes into queer-feminist rants.
Find Anna at:
– Twitter
– Instagram
– Goodreads
– Author profile