Simon James Green has been one of my favourite authors ever since I read Alex in Wonderland on the train ride back from YALC and entertained the whole compartment with my snorts and tears of laughter. So of course, as soon as Gay Club! was released I went and got it… and then did not proceed to read it. But I finally did and I'm so, so glad I did. Continue reading to find out why this might just be my favourite read of the year!

Synopsis:
Barney's a shoo-in for his school's LGBTQ+ Society President at the club's next election. But when the vote is opened up to the entire student body, the whole school starts paying attention. How low will the candidates go to win? Buckle up for some serious shade, scandals and sleazy shenanigans. It isn't long before it's National Coming Out Day – for everyone's secrets!
But when the group faces an expected threat – and a big opportunity – can the club members put politics aside and stand united?
Book: Gay Club! | Author: Simon James Green | Publisher: Scholastic | Published: 05.05.2022 | Pages: 428 | Genre: YA contemporary | Rep: gay MC, bi (?) LI, trans side, Black lesbian side, lesbian sides, gay sides, bi side, queer characters | TW: homophobia, homophobic physical attacks, manipulation

Review:
The thing Simon James Green is known (and loved) for are that his protagonists are awkward gay teen boys. We get that in Gay Club!, too, but we get so much more as well. I feel like, while still crying tears of laughter, this is Green's most serious novel to date. While it has all the funny moments, the awkward situations, the quick conversations between friends, the mine field that is teenage romance, it also has more depth, especially in terms of being queer and the queer community.
Please note that I'm using queer as an umbrella term for every LGBTQ+ person in this review.
Not only are different genders and sexualities discussed in Gay Club!, through the different characters Simon James Green also manages to describe the feeling of community and how queerness is a very individual thing for everyone.
There's Barney, the main character, who is awkward on one hand, yet so determined and brave and sure of himself. He has known he's gay for a while and has found friends and made a space for himself in the queer community. He knows about queer history, he knows about the dos and don'ts, he is out and proud and just trying to make the best of his life. I loved how many facettes there are to his character and that through him it is shown that even though you can be sure in your ways, that there is always stuff to learn and new things to wrap your head around.
His two best friends are Maya, a Black self acclaimed "disaster lesbian" who truly is a disaster but also fiercely loyal and always up for a witty quip, and George, a trans boy who dresses meticulously and is usually calm and collected, keeping a cool head and bringing forth the best arguments for everything. The two of them also have found themselves and are sure of who they are. The trio is so much fun to read about, I love how they love each other so much and always stand up for each other and can trust in the others to support them.
But then there are the characters who aren't so sure in their sexuality yet. They're questioning and here comes really into focus how different the opinions within the queer community are. While there is a general consensus of "everyone is accepted", when it comes to actually accepting everyone it's not that easy. Gay Club! perfectly portrays how hard it can be to find community when you're not out and proud and you yourself don't really know who you are yet but how there is the will to learn about others on the other hand. I really enjoyed how communities and identities are explored and that there is no right way to be queer.
Gay Club! felt like a warm hug that made me feel like I belong. It shows that there is a space for everyone. And it made me truly emotional at the end and had my heart beat furiously. It wasn't only a perfect wrap to an amazing story but it also felt like that warm hug just got tighter, making me feel safe. I love the queer community, I loved this story and I can't express in words how much I needed this book. Definitely recommending this to every person out there, and especially queer teenagers who are still looking for who they are and where their place in the world is.
Rating: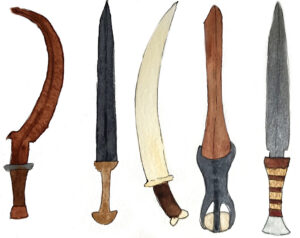 ---
Y
O
U
M
I
G
H
T
E
N
J
O
Y
T
H
I
S
I
F
Y
O
U
L
I
K
E
.
.
.
the found family trope | the friends to lovers trope | fake dating | character growth | coming of age stories | funny and awkward situations | school settings | queer community explored | competitions
Interested in more by Simon James Green?
Check out my review for Heartbreak Boys.
---

Have you read a book by Simon James Green? Have you been / Are you in a club at school?
---
Until next time,