Hoohoo, guys!
I'm so excited to bring an interview with Sheba Karim, author of The Marvelous Mirza Girls today! I read and loved the book, which is set to be released on the 18th May (next week!) last month. You can find more info on the book and the author below!
---
---

Hi Sheba! I'm so excited to have you on my blog today. Thank you so much for doing this interview on The Marvelous Mirza Girls with me!

The basics first: what inspired you to write this story?
I've lived in New Delhi on and off for the past 10 years, it's a city that's very close to my heart and I wanted to write a novel set there. I also wanted to write a love story; That Thing We Call a Heart is about love gone wrong, and Mariam Sharma Hits the Road is about friendship, and I wanted to write a story about falling love, a deep, beautiful, "I'll never be the same again" kind of love.
How did you research for The Marvelous Mirza Girls?
I wrote much of it while living in Delhi, so many of the places were familiar to me. If I hadn't been to a place in a while, I'd revisit it.
What was your favourite part to write? And what was the hardest?
I had so many favorite parts! Definitely the relationship between Noreen and her mother, their closeness, their humorous back and forth. The scripts were fun too, I enjoyed working in the genre. The hardest was trying to capture Delhi, to distill the feel of a place into words, as seen through Noreen's eyes.
Which of the characters do you relate to the most? Why?
I relate to Ruby because I'm also a mother, though my children are much younger. I also relate to Noreen's relationship to writing, how her path to healing and happiness will always be routed through the page.
5. You lived in New Delhi, the place The Marvelous Mirza Girls is set in, for a while. What did you love about living there?
There's a certain spontaneity to everyday life in India that doesn't exist in orderly America. You may look out your car at a busy intersection and see an elephant next to you, as Noreen does in the book. You can drive two miles from a large, insipid modern shopping mall and find yourself in the vast and wild ruins of a 14th century city-fort. I miss the food, and friends and family, of course.
6. What would your ideal day in Delhi look like?
It would be a beautiful late February day with low pollution. Getting some writing done, eating lunch at Cafe Lota, taking the girls to a park like Lodhi Gardens or Sundar Nursery where they can run around medieval ruins, going over to a friend's place for a low-key dinner on their terrace.
7. Lastly, one of my favourite questions: what do you hope your readers take away from The Marvelous Mirza Girls?
The lamp of your heart is lit by love, in all its forms. If light is in your heart, you will find your way home.

---
---
To cure her post–senior year slump, made worse by the loss of her aunt Sonia, Noreen is ready to follow her mom on a gap year trip to New Delhi, hoping India can lessen her grief and bring her voice back.
In the world's most polluted city, Noreen soon meets kind, handsome Kabir, who introduces her to the wonders of this magical, complicated place. With Kabir's help—plus Bollywood celebrities, fourteenth-century ruins, karaoke parties, and Sufi saints—Noreen begins to rediscover her joyful voice.
But when a family scandal erupts, Noreen and Kabir must face complicated questions in their own relationship: What does it mean to truly stand by someone—and what are the boundaries of love?
---
---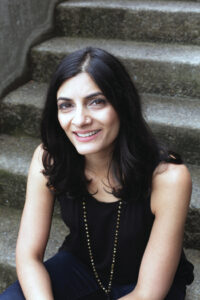 Sheba Karim's next novel, The Marvelous Mirza Girls, is out May 18th, 2021. She is the author of the YA novels Skunk Girl, That Thing We Call a Heart, which made several Best Book lists including Bank Street and Kirkus, and Mariam Sharma Hits the Road, which was named a NPR Best Book of the Year. Her fiction and essays have been featured in 580 Split, Asia Literary Review, Femina, India Today, Literary Hub, Off Assignment, Shenandoah, South Asian Review, The Rumpus, Time Out Delhi and in several anthologies in the United States and India. She has an MFA from the Iowa Writers' Workshop and is a Writer-in-Residence at Vanderbilt University.