Portrait of a Scotsman is one of this year's most anticipated releases and I was so happy when it arrived in the mail. I already liked Hattie in the previous books and was curious to see what would become of her and Lucian, whom we already met in the Lucie/Ballentine book. I expected a lot from this book, so read on to see if my expectations were met.
What is it about?
London banking heiress Hattie Greenfield wanted "just" three things in life:
1. Acclaim as an artist.
2. A noble cause.
3. Marriage to a young lord who puts the gentle in gentleman.
Why then does this Oxford scholar find herself at the altar with the darkly attractive financier Lucian Blackstone, whose murky past and ruthless business practices strike fear in the hearts of Britain's peerage? Trust Hattie to take an invigorating little adventure too far. Now she's stuck with a churlish Scot who just might be the end of her ambitions….
When the daughter of his business rival all but falls into his lap, Lucian sees opportunity. As a self-made man, he has vast wealth but holds little power, and Hattie might be the key to finally setting long-harbored political plans in motion. Driven by an old revenge, he has no room for his new wife's apprehensions or romantic notions, bewitching as he finds her.
But a sudden journey to Scotland paints everything in a different light. Hattie slowly sees the real Lucian and realizes she could win everything—as long as she is prepared to lose her heart.
Book: Portrait of a Scotsman | Series: A League of Extraordinary Women #3 | Author: Evie Dunmore | Publisher: Piatkus | Pages: 408 | Published: 02.09.2021 | Genre: historical romance | TW: death of loved ones (in the past), weapons (pistols), alcohol, suicide (mention), sexism
What did I think?
It's been a few days since I finished Portrait of a Scotsman and my thoughts and feelings are still all over the place. While I enjoyed this book, it was my least favourite in the series and I can't even pinpoint why exactly. Because when I actively search my mind for something I didn't like all I come up with is… nothing. I guess it was the ensemble of all the things together that didn't mix too well? Maybe it was a bit too much? This is a terrible start for a review, I know, but really, this book is very hard to review and even harder to rate. That said, I shall list the things I liked.
Hattie! Hattie goes through such a great development. She's part of the suffragist movement but mostly because she needs something to do, has friends there and has at least a little bit of freedom. But over the course of a few days where her life changes a lot, she comes to realize why she wants women's rights and why she herself would profit from them. But during the story, she learns a lot more about the order of the world and especially about people who aren't rich or rich and aristrocratic and starts to really reflect about her life.
I also liked that Hattie starts caring for herself more and does things that go against her wants but go all for her needs, she gets to know herself so incredibly well and it's really coming across on the page.
I'm not sure if I like Lucian or not but I definitely like the "grumpy brooding man who doesn't really care about people cares for his wife and his wife only" thing he has going on. He is motivated by his past and revenge and to do right by others who could otherwise go through the same he did. He's subtly helping while just as subtly trying to take the aristocrats' power and wealth away. He has such determination and wit and is so direct that he comes across as rude and grumpy. And he is so, so soft for Hattie even when he doesn't want to admit it to himself. The way he loves her really made me melt and how he'd do anything for her even if it goes against everything he wants and needs. He puts her above everything and yep, I love that for Hattie.
In this book, I absolutely adored the sex scenes. I loved how open the characters were with each other and how honest, I especially liked the consent and the focus on female pleasure.
While I felt like the pacing was off at some parts, I liked the plot overall. The beginning was quite exciting, followed by a very chaotic episode, followed by me getting all swoony. The story is set in London and in Drummuir in Scotland and the contrast between those places was beautifully written. The restrictions of both the city and society, the richness and aristocrats with their heads in the clouds on one hand and poverty, nature and a certain sort of freedom on the other. The changes the characters undergo in each place and how they find themselves and each other are really tied to those places.
So why was this my least favourite book in the series? I don't know. I really don't. I still enjoyed so many aspects of this book and arggghhhhh I hate how I didn't like this book as much as the others. I'd still recommend Portrait of a Scotsman very much, though. It's a wonderful historical romance that puts in light the contrasts between the upper classes and workers, between a married woman in a relationship and herself and has a good but not perfect romance at its centre.
You might like this book if you enjoy the following tropes:
marriage of convenience | there was only one bed | grumpy x sunshine | he hates everyone except her
Rating: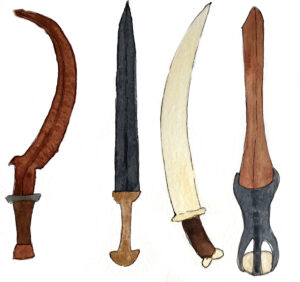 ---
---
Have you read any of the books in the series? Which historical romances do you recommend?
---
---
Until next time,