Hoohoo, guys.
I again searched for upcoming queer book releases. Since I mainly read YA, this is where I looked. I hope I searched well enough and found them all, or at least most of them. If you know of any more, please tell me. And if you know of any adult or NA queer books as well, let me know so I (and everyone else) can check them out as well.
---
JUNE 4TH
The confusion of Laurel Graham by Adrienne Kisner
Seventeen-year-old Laurel Graham has a singular, all-consuming ambition in this life: become the most renowned nature photographer and birder in the world. The first step to birding domination is to win the junior nature photographer contest run by prominent Fauna magazine. Winning runs in her blood—her beloved activist and nature-loving grandmother placed when she was a girl.
One day Gran drags Laurel out on a birding expedition where the pair hear a mysterious call that even Gran can't identify. The pair vow to find out what it is together, but soon after, Gran is involved in a horrible car accident.
Now that Gran is in a coma, so much of Laurel's world is rocked. Her gran's house is being sold, developers are coming in to destroy the nature sanctuary she treasures, and she still can't seem to identify the mystery bird.
Laurel's confusion isn't just a group of warblers—it's about what means the most to her, and what she's willing to do to fight to save it. Maybe–just maybe-if she can find the mystery bird, it will save her gran, the conservatory land, and herself.
---
An Impossible Distance To Fall by Miriam McNamara
It's 1930, and Birdie William's life has crashed along with the stock market. Her father's bank has failed, and worse, he's disappeared along with his Jenny biplane.
When Birdie sees a leaflet for a barnstorming circus with a picture of Dad's plane on it, she goes to Coney Island in search of answers.
The barnstorming circus has lady pilots, daredevil stuntmen, fire-spinners, and wing walkers, and Birdie is instantly enchanted―especially with a girl pilot named June. Birdie doesn't find her father, but after stumbling across clues that suggest he's gone to Chicago, she figures she'll hitch a ride with the traveling circus doing what she does best: putting on a convincing act and insisting on being star of the show.
But the overconfidence that made her belle of the ball during her enchanted youth turns out to be far too reckless without the safety net of her charmed childhood, and a couple of impulsive missteps sends her and her newfound community spinning into freefall.
---
All Eyes On Us by Kit Frick
The daughter of small town social climbers, Amanda Kelly is deeply invested in her boyfriend, real estate heir Carter Shaw. He's kind, ambitious, the town golden boy—but he's far from perfect. Because behind Amanda's back, Carter is also dating Rosalie.
Rosalie Bell is fighting to remain true to herself and her girlfriend—while concealing her identity from her Christian fundamentalist parents. After years spent in and out of conversion "therapy," her own safety is her top priority. But maintaining a fake, straight relationship is killing her from the inside.
When an anonymous texter ropes Amanda and Rosalie into a bid to take Carter down, the girls become collateral damage—and unlikely allies in a fight to unmask their stalker before Private uproots their lives.
---
Wild and Crooked by Leah Thomas
In Samsboro, Kentucky, Kalyn Spence's name is inseparable from the brutal murder her father committed when he was a teenager. Forced to return to town, Kalyn must attend school under a pseudonym . . . or face the lingering anger of Samsboro's citizens, who refuse to forget the crime.
Gus Peake has never had the luxury of redefining himself. A Samsboro native, he's either known as the "disabled kid" because of his cerebral palsy, or as the kid whose dad was murdered. Gus just wants to be known as himself.
When Gus meets Kalyn, her frankness is refreshing, and they form a deep friendship. Until their families' pasts emerge. And when the accepted version of the truth is questioned, Kalyn and Gus are caught in the center of a national uproar. Can they break free from a legacy of inherited lies and chart their own paths forward?
---
Like A Love Story by Abdi Nazemian
It's 1989 in New York City, and for three teens, the world is changing.
Reza is an Iranian boy who has just moved to the city with his mother to live with his stepfather and stepbrother. He's terrified that someone will guess the truth he can barely acknowledge about himself. Reza knows he's gay, but all he knows of gay life are the media's images of men dying of AIDS.
Judy is an aspiring fashion designer who worships her uncle Stephen, a gay man with AIDS who devotes his time to activism as a member of ACT UP. Judy has never imagined finding romance…until she falls for Reza and they start dating.
Art is Judy's best friend, their school's only out and proud teen. He'll never be who his conservative parents want him to be, so he rebels by documenting the AIDS crisis through his photographs.
As Reza and Art grow closer, Reza struggles to find a way out of his deception that won't break Judy's heart–and destroy the most meaningful friendship he's ever known.
---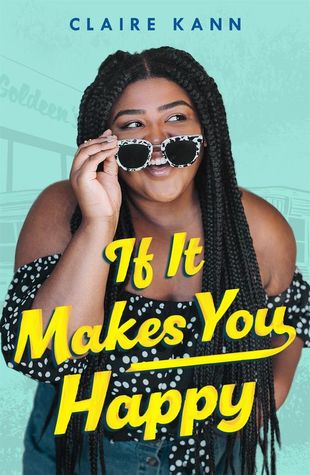 If It Makes You Happy by Claire Kann
High school finally behind her, Winnie is all set to attend college in the fall. But first she's spending her summer days working at her granny's diner and begins spending her midnights with Dallas—the boy she loves to hate and hates that she likes. Winnie lives in Misty Haven, a small town where secrets are impossible to keep—like when Winnie allegedly snaps on Dr. Skinner, which results in everyone feeling compelled to give her weight loss advice for her own good. Because they care that's she's "too fat."
Winnie dreams of someday inheriting the diner—but it'll go away if they can't make money, and fast. Winnie has a solution—win a televised cooking competition and make bank. But Granny doesn't want her to enter—so Winnie has to find a way around her formidable grandmother. Can she come out on top?
---
JUNE 11TH
Tell Me How You Really Feel by Aminah Mae Safi
Sana Khan is a cheerleader and a straight A student. She's the classic (somewhat obnoxious) overachiever determined to win.
Rachel Recht is a wannabe director who's obsesssed with movies and ready to make her own masterpiece. As she's casting her senior film project, she knows she's found the perfect lead – Sana.
There's only one problem. Rachel hates Sana. Rachel was the first girl Sana ever asked out, but Rachel thought it was a cruel prank and has detested Sana ever since.
---
The Grief Keeper by Alexandra Villasante
Seventeen-year-old Marisol has always dreamed of being American, learning what Americans and the US are like from television and Mrs. Rosen, an elderly expat who had employed Marisol's mother as a maid. When she pictured an American life for herself, she dreamed of a life like Aimee and Amber's, the title characters of her favorite American TV show. She never pictured fleeing her home in El Salvador under threat of death and stealing across the US border as "an illegal", but after her brother is murdered and her younger sister, Gabi's, life is also placed in equal jeopardy, she has no choice, especially because she knows everything is her fault. If she had never fallen for the charms of a beautiful girl named Liliana, Pablo might still be alive, her mother wouldn't be in hiding and she and Gabi wouldn't have been caught crossing the border.
But they have been caught and their asylum request will most certainly be denied. With truly no options remaining, Marisol jumps at an unusual opportunity to stay in the United States. She's asked to become a grief keeper, taking the grief of another into her own body to save a life. It's a risky, experimental study, but if it means Marisol can keep her sister safe, she will risk anything. She just never imagined one of the risks would be falling in love, a love that may even be powerful enough to finally help her face her own crushing grief.
---
JUNE 18TH
All of Us With Wings by Michelle Ruiz Keil
Seventeen-year-old Xochi is alone in San Francisco, running from her painful past: the mother who abandoned her, the man who betrayed her. Then one day, she meets Pallas, a precocious twelve-year-old who lives with her rockstar family in one of the city's storybook Victorians. Xochi accepts a position as Pallas's live-in governess and quickly finds her place in their household, which is relaxed and happy despite the band's larger-than-life fame.
But on the night of the Vernal Equinox, as a concert afterparty rages in the house below, Xochi and Pallas accidentally summon a pair of ancient creatures devoted to avenging the wrongs of Xochi's adolescence. She would do anything to preserve her new life, but with the creatures determined to exact vengeance on those who've hurt her, no one is safe—not the family she's chosen, nor the one she left behind.
---
Something like Gravity by Amber Smith
Chris and Maia aren't off to a great start.
A near-fatal car accident first brings them together, and their next encounters don't fare much better. Chris's good intentions backfire. Maia's temper gets the best of her.
But they're neighbors, at least for the summer, and despite their best efforts, they just can't seem to stay away from each other.
The path forward isn't easy. Chris has come out as transgender, but he's still processing a frightening assault he survived the year before. Maia is grieving the loss of her older sister and trying to find her place in the world without her. Falling in love was the last thing on either of their minds.
But would it be so bad if it happened anyway?
---
JUNE 25TH
Technically, You Started It by Lana Wood Johnson
When a guy named Martin Nathaniel Munroe II texts you, it should be obvious who you're talking to. Except there's two of them (it's a long story), and Haley thinks she's talking to the one she doesn't hate.
A question about a class project rapidly evolves into an all-consuming conversation. Haley finds that Martin is actually willing to listen to her weird facts and unusual obsessions, and Martin feels like Haley is the first person to really see who he is. Haley and Martin might be too awkward to hang out in real life, but over text, they're becoming addicted to each other.
There's just one problem: Haley doesn't know who Martin is. And Martin doesn't know that Haley doesn't know. But they better figure it out fast before their meet-cute becomes an epic meet-disaster . . .
---
And this is what I could find. Which one of these would you like to read? Have you heard of any of them yet?
Until next time,