Book: Dark Shores | Series: Dark Shores #1 | Author: Danielle L. Jensen | Publisher: Tor Teen | Published: 7th May 2019 | Pages: 368 (Hardcover) | Genre: YA Fantasy | Rep: black, gay
What's it about?
In a world divided by meddlesome gods and treacherous oceans, only the Maarin possess the knowledge to cross the Endless Seas. But they have one mandate: East must never meet West.
A PIRATE WITH A WILL OF IRON
Teriana is the second mate of the Quincense and heir to the Maarin Triumvirate. Her people are born of the seas and the keepers of its secrets, but when her closest friend is forced into an unwanted betrothal, Teriana breaks her people's mandate so her friend might escape—a choice with devastating consequences.
A SOLDIER WITH A SECRET
Marcus is the commander of the Thirty-Seventh, the notorious legion that has led the Celendor Empire to conquer the entire East. The legion is his family, but even they don't know the truth he's been hiding since childhood. It's a secret he'll do anything to protect, no matter how much it costs him – and the world.
A DANGEROUS QUEST
When an Empire senator discovers the existence of the Dark Shores, he captures Teriana's crew and threatens to reveal Marcus's secret unless they sail in pursuit of conquest, forcing the two into an unlikely—and unwilling—alliance. They unite for the sake of their families, but both must decide how far they are willing to go, and how much they are willing to sacrifice. (goodreads)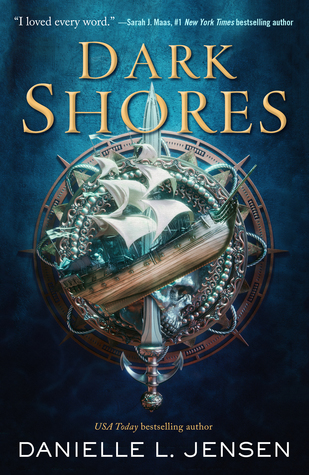 What did I think?
*Disclaimer: I received this book from the publisher in exchange for an honest review. This will not influence my opinion in any way.*
I'm a bit torn with this book. There were many things I liked and many I liked not so much.What annoyed me the most was that I expected pirates and didn't get any. Teriana, the supposed pirate is actually a trader. Not the usual trader, but not necessarily a pirate either. But actually I want to say what I enjoyed first.
I really enjoyed the setting and world building. It was quite detailed, with the Celendor Empire based on society in ancient Rome and conquering everything they can. Then there are the Dark Shores, that have many different states and clans. These continents are on different ends of an ocean, knowing nothing of each other. Only the Maarin, a seafearing people, trade with both. I liked the descriptions of history and conflicts, of (trade) relationships and society. I'm not sure if queerness is accepted or completely accepted, but there are at least two gay characters and nobody bats an eyelash and just accepts them the way they are.
And I really, really liked the main characters. Both of them. Teriana is fierce and speaks sarcasm fluently. She would do anything for the people she loves, even if that means betraying them. Teriana is smart and knows how to fight, with words as well as with knives. And she is black, as are all Maarin.
Marcus is the embodiment of a Cel, tall, well built, the right looks. He has a certain reputation and while some things are true, others aren't. I wouldn't say he's actually a very soft guy, because he definitely isn't. But he has his principles and he acts according to them.
They are forced together and while Teriana tries to give Marcus a hard time, he is actually quite nice to her, but both of them have their goals in mind which often sparks conflicts. I liked how their relationship was described and how it changed during the story.
Of course they also have relationships outside of each other. There definitely was a focus on Marcus and his friends. And I loved their friendships! Marcus is friendly with each man in his legion, even though he is their commander. But especially Felix and Servius are his closest friends, knowing things about him nobody else knows, always there for him and they're always looking out for each other. Their relationship is described really well, their bond obvious. I also liked how Teriana becomes friends with them and starts to like them.
But then there's Teriana and her best friends Lydia and Bait. Lydia is kind of unnecessary and Bait… is there when the story needs it and absent during most of the time. I know next to nothing about him. Or anyone else close to Teriana, really. Maybe with the exception of her mother. I hope to see more of them in book 2.
The story was kind of slow at some points. But this didn't trouble me much because in that way it was possible to bring more politics into the story. Unfortunately there was some unnecessary romance as well which seemed forced and hurried. I would have liked it in a sequel, but this way it just didn't seem entirely plausible.
But all together, I really did enjoy this book. Some things made me roll my eyes, but I still loved the characters and the setting, even though there were no pirates. The writing was good to read, fast paced and detailed, but not boring. It fit the story really well.
Rating:
★★★/5
---
Thank you to Tor Teen for providing me with a copy of Dark Shores!