*WERBUNG/ADVERTISEMENT*
I received a copy of this book from the publisher via NetGalley in exchange for an honest review.
The cover was the first thing I noticed about Shanghai Immortal. It's so gorgeous, and then I also really liked the synopsis and I got super excited when I was approved for an ARC! I didn't really expect anything going in, I was just excited for the story. Continue reading to find out if I ended up liking it.

Synopsis:
Pawned by her mother to the King of Hell as a child, Lady Jing is half-vampire, half-hulijing fox-spirit and all sasshole. As the King's ward, she has spent the past ninety years running errands, dodging the taunts of the spiteful hulijing courtiers, and trying to control her explosive temper – with varying levels of success.
So when Jing overhears the courtiers plotting to steal a priceless dragon pearl from the King, she seizes her chance to expose them, once and for all.
With the help of a gentle mortal tasked with setting up the Central Bank of Hell, Jing embarks on a wild chase for intel, first through Hell and then mortal Shanghai. But when her hijinks put the mortal in danger, she must decide which is more important: avenging her loss of face, or letting go of her half-empty approach to life for a chance to experience tenderness – and maybe even love.
Book: Shanghai Immortal | Author: A.Y. Chao | Publisher: Hodder & Stoughton | Release Date: 01.06.2023 | Pages: 400 | Genre: historical fantasy

Review:
I absolutely loved the beginning. It's fun and a bit chaotic and full of action. It really does set the scene and mood for the rest of the story. We meet Jing, being her angry, feral self. And her opposite, Mr. Lee, who knows how to behave correctly with proper etiquette and is usually very collected. The two couldn't be more different, but I think that's what made the characters complement each other so well. I liked how their contrasts added to the story and gave it nuances and different perspectives. Not only to the story but to each other as well. Through each other, they both learned to see the world(s) with different eyes and grew from it.
Especially Lady Jing goes through a lot of character development.
I also enjoyed Jing's friendship with Gigi a lot. They two are opposites in character, but neither of them wants to admit that they are friends. They insult each other, threaten each other but at the end of the day know that they can trust and rely on each other, too. Their dynamic was very fun to read.
But my favourite thing about Shanghai Immortal was the world building. Chao paints a vivid world that comes alive on the pages, atmospheric with vivid descriptions of the smells and tastes and what everything looks like. I could picture everything so well, the little details everywhere really painted a picture of the city and its inhabitants that was just there in my head. You know how when you paint with watercolours and use wet-in-wet technique and you tip the brush on wet paper and the colours bloom? That's what A.Y. Chao's descriptions did in my mind. Shanghai bloomed there.
While I enjoyed a lot in this book, the humor and the character relationships especially, I really had some trouble with the plot. It seemed to be all over the place, sometimes going in this direction, then it that in very short time and I felt like those directions weren't connected and were lose ends. The plot didn't feel like a body of water moving forward with purpose, but more like a stream with currents and waterfalls, chaotic yet interesting to look at. The whole book seemed to be a bit staccato, and the pacing just threw me off.
Same goes for details about the characters. Little things that were mentioned that seemed somehow important but never made another appearance which left me wondering about the sense of them.
I did enjoy Shanghai Immortal, though. It had beautiful, unique world building, fun dialogues and an interesting cast. It isn't a favourite read but I'll definitely continue reading the series to see where it goes!
Rating: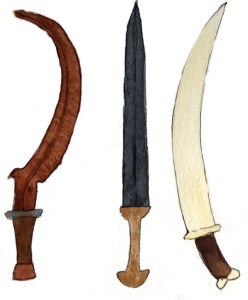 ---
YOU MIGHT ENJOY SHANGHAI IMMORTAL IF YOU LIKE…
opposites attract trope | funny dialogues | Chinese mythology | vampires | fast paced plots | a lot of action | frenemies | descriptions of food | atmospheric world building
---
Would you like to read another historical fantasy set in Shanghai? Then try These Violent Delights by Chloe Gong.
---

Do you plan to read Shanghai Immortal? What are your favourite books inspired by Chinese mythology? What city would you like to see featured in a book?
---
Until next time,