Listen, I love Becky Albertalli. And I was extremely excited for Imogen, Obviously for so many reasons. I had high hopes for the story because it's about a girl figuring out her sexuality and I had a feeling that it might speak to my soul. Continue reading to find out if it did.
Synopsis
Imogen may be hopelessly heterosexual, but she's got the World's Greatest Ally title locked down. And when she visits her best friend, Lili, at college who is newly-out, newly-graduated, and newly thriving, with a cool new squad of queer college friends, no one knows that Imogen's a raging hetero – not even Lili's best friend, Tessa.
Of course, the more time Imogen spends with chaotic, freckle-faced Tessa, the more she starts to wonder if her truth was ever all that straight to begin with…
Book: Imogen, Obviously | Author: Becky Albertalli | Publisher: Harper Collins | Release Date: 02.05.2023 | Genre: YA contemporary, romance | Pages: 432 | Rep: Jewish bi MC, lesbian LI, pan Brazilian-American side, non-binary Japanese-American side, bi sides, lesbian side, Jewish sides
---

I received a copy of Imogen, Obviously from the publisher via NetGalley. That does not have any effect on my opinion of the book or this review.
Review
You know you're in for a masterpiece when the author's note makes you cry already. What Becky Albertalli describes there, her own experiences and how she brought Imogen alive made me sad but hopeful. I remember things about what happened to her and then the feelings she described just felt kinda close to home. That said, going into the story I was excited and a little bit nervous.
And I was not disappointed. The story, the characters and their feelings, the discussions on sexuality and identity were so well written and the whole book really spoke to my soul. I absolutely loved the discussions, both between the characters and Imogen's internal monologues. I loved how they talked about the queer community and what it is, how being queer and labeling works for each person individually. I especially liked how the book described bisexuality and the struggles that come with it.
Becky Albertalli poured her soul and experiences into this story and it shows. It makes the book all the more relatable, important and hitting deep.
Imogen is so sure she's straight in the beginning, dismissing her crushes on girls as something like admiration or wanting to be like those girls. But over the course of the story when she is forced to think about herself more and about her friends as well, there is so much for her discover. Not only about herself but about her surroundings as well. I could feel with her so well while she tries to wrap her head around her feelings and accepting them. I loved how Becky Albertalli wrote that development, so raw and realistic and with all its happy moments and struggles.
As a bisexual myself, Imogen, Obviously made me feel seen and touched something within me. I could see myself in those doubts. "Am I queer enough? Am I bisexual enough? Am I even bisexual? What does bisexuality mean for me? How are the people I love are going to react?" I really liked how those questions are discussed and how the different characters each bring different aspects and opinions into the discussion. I have had those exact conversations, too.
Imogen, Obviously is definitely one of my favourite books of the year, maybe even of all time. It is both fun and discusses serious topics, it's full of charming characters with great developments in an amazing friendship group. The story brings different angles to certain topics. It shows young queer people in a safe environment and with a support network that is unconditionally full of love for each other. If you ever want to read about questioning your sexuality, coming to terms with your identity and standing up for yourself, it is this one.
I can absolutely recommend this book without any doubt whatsoever. This book was obviously perfect and I cannot thank Becky Albertalli enough for bringing this story into the world.
Rating: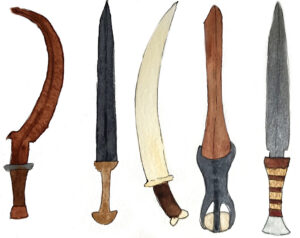 ---
YOU MIGHT ENJOY IMOGEN, OBVIOUSLY IF YOU LIKE…
coming of age stories | college | found family | cool friend groups | discussions about queer life | sweet romances | popculture references | a good sibling relationship | happy queer stories
---
Not enough of bisexual main characters yet? Try Perfect on Paper by Sophie Gonzales or The Brightsiders by Jen Wilde.
Interested in more by Becky Albertalli? Try Kate in Waiting.
---

What books made you feel seen? Have you read any Becky Albertalli books and if you did, which was your favourite?
---
Until next time,