NOTE: I received this book in exchange for an honest review by the publisher via NetGalley.
What is it about?
Is there such a thing as an anti-social butterfly? If there were, Greta Oto would know about it—and totally relate. Greta far prefers the company of bugs to humans, and that's okay, because people don't seem to like her all that much anyway, with the exception of her twin brother, Danny, though they've recently had a falling out. So when she lands a research gig in the rainforest, she leaves it all behind.
But when Greta learns that Danny has suffered an aneurysm and is now hospitalized, she abandons her research and hurries home to the middle of nowhere America to be there for her brother. But there's only so much she can do, and unfortunately just like insects, humans don't stay cooped up in their hives either–they buzz about and… socialize. Coming home means confronting all that she left behind, including her lousy soon-to-be sister-in-law, her estranged mother, and her ex-boyfriend Brandon who has conveniently found a new non-lab-exclusive partner with shiny hair, perfect teeth, and can actually remember the names of the people she meets right away. Being that Brandon runs the only butterfly conservatory in town, and her dissertation is now in jeopardy, taking that job, being back home, it's all creating chaos of Greta's perfectly catalogued and compartmentalized world. (goodreads)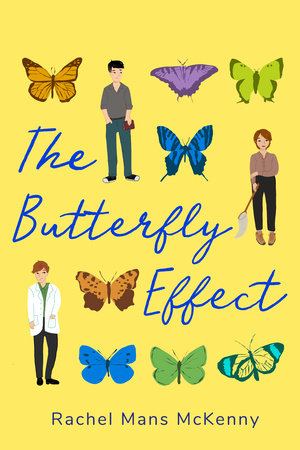 Book: The Butterfly Effect | Author: Rachel Mans McKenny | Publisher: Alcove Press | Published: 08.12.2020 | Pages: 304 | Genre: contemporary fiction | Rep: Chinese-American love interest | TW: aneurysm, hospital stay, cheating, death of parent, addiction, alcohol
What did I think?
To be honest, I'm not entirely sure what I expected but it somehow wasn't that. It was a lot more serious and less romantic that I thought it would be. That is nothing bad, just not what I expected.
I really enjoyed the characters' relationships with each other. For me, this part was really the best of the book. I liked the dynamics and how they changed, not only in the book but also what we get to know from before. Especially with Greta and Danny, we find out how they became who they are and what that means for their relationships and lives in general. The changes they went through and the realizations they made were well written.
My favourite character had to be Max, Greta's best (and only) friend who likes puns and is usually there to support Greta. He's just so nice and sweet and I wish there was more of him in the book.
I also liked Greta. She doesn't like people much and isn't liked by many people in return. She can come across as not caring or even cold. But she has learned from an early age that the people in her life don't care the same way she does and she somehow estranged herself from everyone a bit. She's not good with words and expressing herself and coming out of her shell. And that's what I liked about her. Greta isn't a likeable main character, but she's a good main character in the way she's written. Her (academic) interest in bugs and especially butterflies was also something I enjoyed reading about, it was something different.
I had some problems with the plot because I wasn't sure where it was going. I couldn't really get behind the different characters' goals and where they were going. I already mentioned that the book didn't turn out to be what I expected. I thought there woud be more romance but when the romance part wasn't really dominant, I started to wonder where it was going instead. And yes, the book is about finding to yourself and finding family, both by blood and the people you find along the way, it is about getting to know yourself. And while that was something I realized while reading, I still was unsure how it would all be tied up in the end.
And here we come to my main problem: the ending. I don't care if books have happy or bad endings, I just want them to fit the story. And in this case, it wasn't a good fit, unfortunately. It all went too fast, things I had seen coming were wrapped up quickly on the last few pages and I just would have wanted some more focus or explanation on that part.
All in all, I did enjoy this book. It was heavily character focused with a sprinkle of familial love, some bugs and just a dash of romance. The Butterfly Effect was well written and gives the reader some interesting things to think about, especially when it comes to the own place in life and what you want to do with it.
Rating: