Hoohoo, lovelies!
I went into bathtub yesterday to relax after a day of work and read a bit… and then spent 2 1/2 hours in the water because I needed to finish The Devil Makes Three by Tori Bovalino for two reasons: 1. it was so good I wanted to continue reading and 2. I was afraid to get out of the bathtub before I knew the book had a good ending. Before saying anything else about this book, let it be known that I am easily frightened and should stop reading (slightly) scary books when I'm home alone in the middle of the night. Whew. But…
What is the book about?
When Tess and Eliot stumble upon an ancient book hidden in a secret tunnel beneath their school library, they accidentally release a devil from his book-bound prison, and he'll stop at nothing to stay free. He'll manipulate all the ink in the library books to do his bidding, he'll murder in the stacks, and he'll bleed into every inch of Tess's life until his freedom is permanent.
Forced to work together, Tess and Eliot have to find a way to re-trap the devil before he kills everyone they know and love, including, increasingly, each other. And compared to what the devil has in store for them, school stress suddenly doesn't seem so bad after all. (goodreads)

Book: The Devil Makes Three | Author: Tori Bovalino | Publisher: Titan Books | Published: 14.09.2021 | Genre: YA paranormal | 389 pages | TW: blood, self-harm, gore, murder, death, physical and emotional abuse, cheating, cancer
What did I think?
I already mentioned above that the book was so good I just *needed* to finish it. I have to admit that I went into the story without knowing what was about to happen. Yes, I read the synopsis but all that stuck with me was "two people summon the devil in a library". So I didn't really have any expectations.
But as soon as I sat down to read, I liked the book. The writing made it very easy for me to get into the story, made the book very atmospheric and painted a good picture of the characters. Both protagonists, Tess and Eliot, were amazing but I especially took a liking to Tess who is very caring even if she doesn't show it, who looks after the people she loves most, who is bold and angry and doesn't like being weak. Eliot is her opposite in many things, he cares for one person only, is more calm and polite and is hungry for knowledge. They complement each other very well, each of them has unique talents and wants and needs that drive them forward.
They managed to make me cackle during the first chapters, then made me fear for them during the rest of the story.
If you're still searching for spooky October reads, The Devil Makes Three should hop on your list. The setting of a (not entirely normal) library was very fitting for the story. While the story is set during summer, the whole book feels darker and cooler than that. The library is mostly deserted during the summer months, it's darker and quieter between the shelves and the stacks which makes for a perfectly uncomfortable atmosphere, especially if you take into account that the library is rumored to be haunted.
Overall, The Devil Makes Three had me tightly in its grip with its dark atmosphere, ambitious characters, action and a great writing style. All the twists and turns put me on the edge of my seat (or really deeper into the water of my bathtub so I didn't have to look over its edge lol). Definitely a great book for the scary, darker times of the year!
Rating: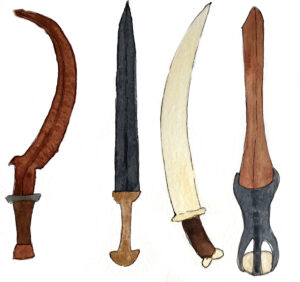 ---
---
Have you read this book already or do you plan to? What other books set in a library do you know and like? Are you a fan of scary books?
---
---
Until next time,