Hoohoo, lovelies!
The Lost Girls is a book released last month, a story about vampires and revenge and love. It has been on my radar for a while so I was extremely happy when Lili @ Utopia State of Mind gave me her copy of the book for me to read! I do like a good vampire story, and especially if it's a queer one. So of course I had to pick it up right away. Continue reading to find out if I liked this bloody book.
---
What is it about?
When Elton Irving turned Holly Liddell into a vampire in 1987, he promised her eternal love. But thirty-four years later, Elton has left her, her hair will be crimped for the rest of immortality, and the only job she can get as a forever-sixteen-year-old is the midnight shift at Taco Bell.
Holly's afterlife takes an interesting turn when she meets Rose McKay and Ida Ripley. Having also been turned and discarded by Elton—Rose in 1954, and Ida, his ex-fiancée, in 1921—they want to help her, and ask for her help in return.
Rose and Ida are going to kill Elton before he turns another girl. Though Holly is hurt and angry with Elton for tossing her aside, she's reluctant to kill her ex, until Holly meets Parker Kerr—the new girl Elton has set his sights on—and feels a quick, and nerve-wracking attraction to her.
Book: The Lost Girls | Author: Sonia Hartl | Publisher: Page Street | Published: 14.09.2021 | Pages: 256 | Genre: YA paranormal, fantasy | Rep: bi MC, queer secondary characters | TW: blood, murder, gore, dementia, loss of loved ones (in past)
What did I think?
I liked this book from the very beginning and so did my flatmate who picked the book up while I was at work and left it in the kitchen.
I LIKED
I loved Holly! She is such a great protagonist. I loved her sass, how she doesn't take shit from anyone anymore. I liked her journey and how she is the change she needs, how she comes to realize her own power and how to wield it. There is so much to her, her wit, her being fed up with men, her want for more and something different. I loved following the story through her eyes.
I also liked Rose and Ida and Stacey. All of them are unique in their one ways, they have histories that made them who they are. They're united by the goal to be free and do what they want to. Rose is gentle, but has a vicious fighting spirit. Ida doesn't care about much and usually has an insult on the tip of her tongue, but she is also fiercly loyal to those she loves. Stacey really is a whirlwind who is a bit bitter about the state of her existence but is an extremely good friend.
The whole group of four girls really gets this book going, I liked how they get to know each other better and how they become more of a family than just a group of girls getting together to get revenge.
The backstories of each girl was thought out so it was clear what their motivations are, where they come from and why they are the way they are. Each of them brings something to the group that is necessary for their success, each one adds to the story in her own way.
I HAD A HARD TIME WITH
Holly and Parker's relationship. I really liked it at first when they got to know each other but then it went all very, very fast. The book itself is quite short and while the story also takes place in just a couple of weeks, I would have liked a few more pages on not only how they start liking each other but how they fall in actual love.
ALL IN ALL…
I adored this book! Vampires making a comeback and being queer is very much what I want to see in the books I read, and this one really delivered!
I recommend reading "The Lost Girls" if you're a fan of these tropes:
ex-girlfriends fall in love and get back at man | revenge | found family | girls wreaking havoc
---
Rating: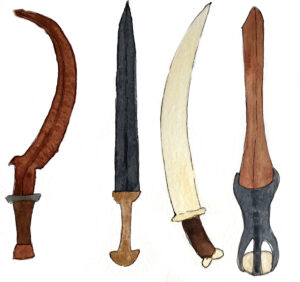 ---
Have  you read this book? Do you plan to? What other vampire books would you recommend?
---
---
Until next time,