I've loved both of Jamie Pacton's contemporary YA books so far. The Life and (Medieval) Times of Kit Sweetly is one of my all time favourite books (can't recommend it enough!) and I also enjoyed Lucky Girl so much!! I've followed the progress of The Vermilion Emporium through the author's social media and was really excited to get to read it. I was looking forward to that magical, whimsical promise of a story so much. Continue reading to find out if I liked it as much as expected.
---

Synopsis:
It was a day for finding things . . .
On the morning Twain, a lonely boy with a knack for danger, discovers a strand of starlight on the cliffs outside Severon, a mysterious curiosity shop appears in town. Meanwhile, Quinta, the ordinary daughter of an extraordinary circus performer, chases rumors of the shop, The Vermilion Emporium, desperate for a way to live up to her mother's magical legacy.
When Quinta meets Twain outside the Emporium, two things happen: One, Quinta starts to fall for this starlight boy, who uses his charm to hide his scars. Two, they enter the store and discover a book that teaches them how to weave starlight into lace.
Soon, their lace catches the eye of the Casorina, the ruler of Severon. She commissions Quinta and Twain to make her a starlight dress and will reward them handsomely enough to make their dreams come true. However, they can't sew a dress without more material, and the secret to starlight's origins has been lost for centuries. As Quinta and Twain search the Emporium for answers, though, they discover the secret might not have been lost—but destroyed. And likely, for good reason.
Book: The Vermilion Emporium | Author: Jamie Pacton | Publisher: Peachtree | Release Date: 01.11.2022 | Pages: 384 | Genre: fantasy | Rep: brown characters, Black characters, bi MC, wlw side characters | TW: blood, loss of loved ones (in the past + on page), torture mention, self harm (for magic)
---

Review
I received a copy of this book from the publisher via NetGalley in exchange for an honest review.
There was so much I loved about The Vermilion Emporium. What I really liked was how it all began. I liked being thrown right into the thoughts and emotions of the two protagonists, Quinta and Twain, and the similarities and differences between them. It was a day for finding things and both of them were searching for things and the finding something very unexpected: each other.
When the two of them meet in front of a magical curiosity shop, they are both orphaned, both hoping to change their lives. But they have different motives and different wants for what they want from life. And yet, they are drawn to each other immediately. I'm not usually a fan of insta-love but I liked how it was done here. I liked that their connection comes from deep within them, from a place they don't really understand yet.
They are fascinated with each other but they already know that there is something about the other they can trust, something that binds them together, a deep understanding that resonates in the other. I loved the magic of their relationship, both the actual magic involved and how magical their relationship in general felt. How their relationship progressed and how they get to know each other was also beautifully written. They not only get to know each others stories and hopes and dreams but who they truly are at their core.
I liked how fierce they were individually and how they were flawed and made mistakes, yet always stayed true to themselves. They both are such warm persons but they also protect themselves and try to protect their loved ones.
Another thing I really liked was the magic system. I loved the concept of magical starlight and how to wield it. I loved how its magic was woven into the story like lace, how the characters discover more about it strand by strand, how the full pattern of its magic, the beautiful and the dangerous, are shown.
The atmosphere was also very fitting for the rest of the book and I could just imagine everything very well. The city of Severon by night, the air full of possibilities and a hunger for knowledge, people being hungry for more, yet a feeling of safety and security for most of them. It was a bit of a contrast to the protagonists' emotions and I really liked that contrast and how it all came together to one beautiful, magical story. The Vermilion Emporium, the shop the book is named after, was such a great addition to the story with its magical rooms and artifacts, with its secrets and workings nobody truly understands. It houses exactly the things and people you'd expect to find a magical emporium.
The Vermilion Emporium felt like a long, magical dream you don't necessarily want to wake up from. You want to explore more of the world and the shop itself, you just want to continue reading Twain and Quinta's story and what they make of their little world. While the story is wrapped up wonderfully with a very fitting ending, I still crave more of the world. I'd love to explore more of its magic, maybe with other characters. It's such a rich world, brimming with possibilities and dreams and I really, truly loved this story!
Rating: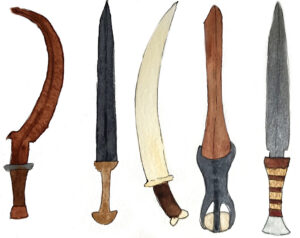 ---
You might enjoy this book if you like the following things…
insta-love | flawed characters | a unique magic system | magical shops | weird, helpful ladies | beautifully written romance | a world full of possibilities | complex family histories | dangerous magic
---

What are your favourite books with magical shops? Would you go on an adventure and explore the whole world if you could? Have you read any book by Jamie Pacton or plan to do so?
---
Until next time,