Hoohoo friends.
It is time for another wrap-up. What did I read last month?
---
What fresh hell? by Lucy Vine ★★★

What is it about?
Lilah Fox has just returned from the hen party from hell, vowing to actually spend time with her boyfriend and focus more on herself. Then she gets the whatsapp from her best friend Lauren to say she's just got engaged. And as maid of honour, Lilah just signed up for weekend wedding fairs and weekly planning meetings for the next year.
Just when she thinks things can't get any worse, she's about to discover a new fresh hell. (Source)

What did I think?
To be honest? I don't even know. I mean, the book was okay. I enjoyed some parts of it more than others. It was funny, but sometimes the jokes were just too forced and kind of cringeworthy at some points. And all the stuff with the weddings was a bit weird as well. Especially because they have the same food at every single wedding? I won't say I have been to a lot of weddings, but there was different food on every wedding I've visited so far. Is this different in the UK? And I found most of the characters to be annoying. But, a good thing: one of them was a plus sized model with much confidence and much beauty. So there's that. And I liked her the most. She was just really cool I guess. And Lilah, the main character is not really developing, except for the last few pages where she makes a character jump instead of a development. Just. I wasn't that much of a fan, but I enjoyed a lot of parts anyways.
---
The thousandth Floor by Katharine McGee ★★★★
What is it about?
WELCOME TO MANHATTAN, 2118.
A hundred years in the future, New York is a city of innovation and dreams. Everyone there wants something…and everyone has something to lose.
LEDA COLE's flawless exterior belies a secret addiction—to a drug she never should have tried and a boy she never should have touched.
ERIS DODD-RADSON's beautiful, carefree life falls to pieces when a heartbreaking betrayal tears her family apart.
RYLIN MYERS's job on one of the highest floors sweeps her into a world—and a romance—she never imagined…but will this new life cost Rylin her old one?
WATT BAKRADI is a tech genius with a secret: he knows everything about everyone. But when he's hired to spy for an upper-floor girl, he finds himself caught up in a complicated web of lies.
And living above everyone else on the thousandth floor is AVERY FULLER, the girl genetically designed to be perfect. The girl who seems to have it all—yet is tormented by the one thing she can never have.
Amid breathtaking advancement and high-tech luxury, five teenagers struggle to find their place at the top of the world. But when you're this high up, there's nowhere to go but down….
What did I think?
This is basically Gossip Girl set in the future. Seriously, all that drama and intrigues… But since I love Gossip Girl, I enjoyed this book as well. There were many different characters who all have different sides. Despite being extremely dramatic, the characters were very real. Their (inter)action is written really well and they all develop in some way. And even though we know what will happen at the end, you never really know what exactly happens and when it does. It is exciting from start to finish, there never is a boring page.
---
Boy meets girl by Meg Cabot ★★  
What is it about?
Meet Kate Mackenzie. She:
– works for the T.O.D. (short for Tyrannical Office Despot, also known as Amy Jenkins, Director of the Human Resources Division at the New York Journal)
– is sleeping on the couch because her boyfriend of ten years refuses to commit
– can't find an affordable studio apartment anywhere in New York City
– thinks things can't get any worse.
They can. Because:
– the T.O.D. is making her fire the most popular employee in the paper's senior staff dining room
– that employee is now suing Kate for wrongful termination, and
– now Kate has to give a deposition in front of Mitch Hertzog, the scion of one of Manhattan's wealthiest law families,who embraces everything Kate most despises … but also happens to have a nice smile and a killer bod.
The last thing anybody — least of all Kate Mackenzie — expects to find in a legal arbitration is love. But that's the kind of thing that can happen when…
Boy meets girl.
What did I think?
This sounded like quite a fun book but… no, thank you. It was written in emails, chats and the like and while it was interesting to read, it was also weird and Meg Cabot could not say everything I needed to know through this. And I don't know if it was the German translation or not, but some words were really badly chosen. And 'gay' is used in a bad way and I just. Nope. And then the Instalove? nah. I just didn't get warm with this book. And the German title does not make sense.
---
Undead Girl Gang by Lily Anderson (ARC) ★★★★
What is it about?
Mila Flores and her best friend Riley have always been inseparable. There's not much excitement in their small town of Cross Creek, so Mila and Riley make their own fun, devoting most of their time to Riley's favorite activity: amateur witchcraft.
So when Riley and two Fairmont Academy mean girls die under suspicious circumstances, Mila refuses to believe everyone's explanation that her BFF was involved in a suicide pact. Instead, armed with a tube of lip gloss and an ancient grimoire, Mila does the unthinkable to uncover the truth: she brings the girls back to life.
Unfortunately, Riley, June, and Dayton have no recollection of their murders, but they do have unfinished business to attend to. Now, with only seven days until the spell wears off and the girls return to their graves, Mila must wrangle the distracted group of undead teens and work fast to discover their murderer…before the killer strikes again. (Source)
What did I think?
First of all, fat black mexican MC. Yes! Also: witches. And a murder. And girls coming back from the dead and becoming friends. Damn, I loved this. At some parts it was a bit slow and boring, but I enjoyed it so much anyways. This girl gang is just really amazing and I love how they get to stick together even though 3/4 of them are dead and they hated each other in the beginning. Much much love for this book.
---
Leah on the Offbeat by Becky Albertalli ★★★★
What is it about?
When it comes to drumming, Leah Burke is usually on beat—but real life isn't always so rhythmic. An anomaly in her friend group, she's the only child of a young, single mom, and her life is decidedly less privileged. She loves to draw but is too self-conscious to show it. And even though her mom knows she's bisexual, she hasn't mustered the courage to tell her friends—not even her openly gay BFF, Simon.
So Leah really doesn't know what to do when her rock-solid friend group starts to fracture in unexpected ways. With prom and college on the horizon, tensions are running high. It's hard for Leah to strike the right note while the people she loves are fighting—especially when she realizes she might love one of them more than she ever intended.
What did I think?
Such a fun read! The writing was so easy, I read this book in only a couple of hours. I was so happy to not have a perfectly likeable character for once, but one who is harsh sometimes. And she is bi! Yussa. And I was really happy to meet all the characters from Simon vs. again. But the thing is… when Leah's friend comes out to her as "lowkey bi" she just dismisses it and says that this is not a thing. But then who is she to decide someone else's labels? Mh. I had some issues with this book, but overall I loved it.
---
Outrun the wind by Elizabeth Tammi (ARC) ★★★★
What is it about?
The Huntresses of Artemis must obey two rules: never disobey the goddess, and never fall in love. After being rescued from a harrowing life as an Oracle of Delphi, Kahina is glad to be a part of the Hunt; living among a group of female warriors gives her a chance to reclaim her strength, even while her prophetic powers linger. But when a routine mission goes awry, Kahina breaks the first rule in order to save the legendary huntress Atalanta.
To earn back Artemis's favor, Kahina must complete a dangerous task in the kingdom of Arkadia— where the king's daughter is revealed to be none other than Atalanta. Still reeling from her disastrous quest and her father's insistence on marriage, Atalanta isn't sure what to make of Kahina. As her connection to Atalanta deepens, Kahina finds herself in danger of breaking Artemis' second rule.
She helps Atalanta devise a dangerous game to avoid marriage, and word spreads throughout Greece, attracting suitors willing to tempt fate to go up against Atalanta in a race for her hand. But when the men responsible for both the girls' dark pasts arrive, the game turns deadly. (Source)

What did I think?
Yes, finally some good sapphic warriors! The two main characters are completely different, one a warrior through and through, the other gentle, but both strong. And I loved seeing their relationship evolve. And I also enjoyed the villain, because he was really unconventional and I haven't ever heard about him as a villain before which was quite refreshing. And I loved how the women win and the stupid men who only wanted them beneath them loose. Yes, thank you. I loved.
---
Hero at the Fall by Alwyn Hamilton ★★★★★ 
What is it about?
Once, in the desert country of Miraji, there was a Sultan without an heir.
The heir had been killed by his own brother, the treacherous Rebel Prince, who was consumed by jealousy and sought the throne for himself.
Or so it was said by some. There were others who said that the Rebel Prince was not a traitor but a hero…
In the final battle for the throne, Amani must fight for everything she believes in, but with the rebellion in pieces, and the Sultan's armies advancing across the desert plains, who will lead, who will triumph, who will live and who will die? (Source)

What did I think?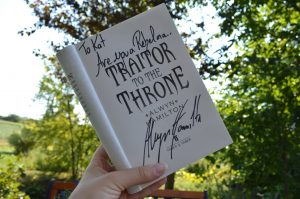 Wow wow wow, what a finale! Why did I wait so stupidly long to read this? It was amazing! My eyes were glued to the pages. There was so much happening at once and I could not stop reading, I needed to know what was going to happen. And it was the perfect ending to this wonderful trilogy, at least in my opinion. Definitely one of my favourite series!
---
Wicked like a Wildfire by Lana Popović ★★★★
What is it about?
All the women in Iris and Malina's family have the unique magical ability or "gleam" to manipulate beauty. Iris sees flowers as fractals and turns her kaleidoscope visions into glasswork, while Malina interprets moods as music. But their mother has strict rules to keep their gifts a secret, even in their secluded sea-side town. Iris and Malina are not allowed to share their magic with anyone, and above all, they are forbidden from falling in love.
But when their mother is mysteriously attacked, the sisters will have to unearth the truth behind the quiet lives their mother has built for them. They will discover a wicked curse that haunts their family line—but will they find that the very magic that bonds them together is destined to tear them apart forever? (Source)

What did I think?
The beginning was a bit slow, but once I got really into the story I fell completely in love with it and the writing and the lush smells and wonderful characters. I wrote a full review which you can read here.
---
The Dark Prophecy by Rick Riordan ★★★★★ 
What is it about?
This is the second book in the Apollo series. The god Apollo, made human, is on a mission in Indianapolis. He meets the second emperor and has to defeat him. But not alone. He travels with old friends and also finds new ones.
What did I think?
I wasn't a huge fan of the first book. That's why I waited two years before reading this one. But I was so positively surprised. Why did I not like the first one? This right here was wonderful. With the amazing Riordan humor and diverse characters. I really enjoyed this book a lot more than I thought I would.
---
Bright we Burn by Kiersten White ★★★★★ 
What is it about?
Haunted by the sacrifices he made in Constantinople, Radu is called back to the new capital. Mehmed is building an empire, becoming the sultan his people need. But Mehmed has a secret: as emperor, he is more powerful than ever . . . and desperately lonely. Does this mean Radu can finally have more with Mehmed . . . and would he even want it?
Lada's rule of absolute justice has created a Wallachia free of crime. But Lada won't rest until everyone knows that her country's borders are inviolable. Determined to send a message of defiance, she has the bodies of Mehmed's peace envoy delivered to him, leaving Radu and Mehmed with no choice. If Lada is allowed to continue, only death will prosper. They must go to war against the girl prince.
But Mehmed knows that he loves her. He understands her. She must lose to him so he can keep her safe. Radu alone fears that they are underestimating his sister's indomitable will. Only by destroying everything that came before–including her relationships–can Lada truly build the country she wants.(Source)
What did I think?
I already knew about the historical background of the story but since I loved the previous two books I was excited to see what Kiersten White was going to do with the material. And damn, she definitely did not disappoint. Lada becomes more cruel, but on the other hand she starts accepting weaknesses and becomes stronger. And while I did not like Radu much in book 1 and liked him only slightly better in book 2, I started loving him in this one. He is so smart, his mind being his weapon of choice, where his sister is eually smart, but depends also a lot on brute force. And ugh, Mehmed was annoying. Sorry, but his whole loving-Lada-thing? Eh. Nah. And I don't want to spoil anything, but I loved the way the story went. Enough said.
---
That's it. What did you read last month?