Among the Beasts & Briars has been sitting on my shelves ever since its release. Ashley Poston is one of my all time favourite authors but I somehow did not pick this up to read. Why, oh why? Well, we'll never know but I finally did and you can continue reading to find out what I thought of it!

Synopsis:
Cerys is safe in the kingdom of Aloriya.
Here there are no droughts, disease, or famine, and peace is everlasting. It has been this way for hundreds of years, since the first king made a bargain with the Lady who ruled the forest that borders the kingdom. But as Aloriya prospered, the woods grew dark, cursed, and forbidden. Cerys knows this all too well: when she was young, she barely escaped as the woods killed her friends and her mother. Now Cerys carries a small bit of the curse—the magic—in her blood, a reminder of the day she lost everything. The most danger she faces now, as a gardener's daughter, is the annoying fox who stalks the royal gardens and won't leave her alone.
As a new queen is crowned, however, things long hidden in the woods descend on the kingdom itself. Cerys is forced on the run, her only companions the small fox from the garden, a strange and powerful bear, and the magic in her veins. It's up to her to find the legendary Lady of the Wilds and beg for a way to save her home. But the road is darker and more dangerous than she knows, and as secrets from the past are uncovered amid the teeth and roots of the forest, it's going to take everything she has just to survive.
Book: Among the Beasts & Briars | Author: Ashley Poston | Publisher: Blazer & Bray | Published: 20.10.2022 | Pages: 352 | Genre: YA fantasy | Rep: wlw sides, queernormative world | TW: death, loss of loved ones (in the past), blood | Tropes: Childhood friends to lovers, cursed forest
"BRIARS, BRAMBLES, BONES, AND BLOSSOM, I SMELL A GIRL WHO CAN'T BE FORGOTTEN."

Review
Well, Ashley Poston is one of my favourite authors and with Among the Beasts & Briars they once again prove why. I don't know why, but I was never in a mood to pick up this book before, but in November, the mood finally struck and I read the book in two sittings.
I loved both the characters and the setting so much. The book made me realize how much I love reading about forests in general, but creepy, magical, cursed forests in particular. I could imagine the nature so vividly, the fog and the stillness and quiet it brings, the screams and the plants and vines and trees feeling like they're closing in. I could smell the earthy, cool air and feel the dampness of the fog on my skin. The atmosphere of the woods came across so well, that uneasy, creepy feeling full of tension. I loved being in those woods alongside the characters even though in reality, not even ten horses could pull me in there. But to read about those woods? Fabulous. And Ashley Poston has done an amazing job writing them. I was inspired to make art of a particular scene which doesn't happen too often, but I had that picture in my mindand just HAD to paint it. Not that I'm even a little bit happy with how it turned out, but how the scene was described? Good shit.
Then there are the two main characters, Cerys and Fox. Cerys is a gardener's daughter whose blood has the ability to make plants grow. She's usually very gentle with a big heart and many emotions, but she also talks a lot, especially about things she is passionate about. She has been grieving for a big part of her life over the loss of her friends and her mother but still manages to make the best of her life.
She's not brave naturally, but she is when she has to. She is clever and knows how to use her words to get what she wants if necessary. She fights for herself and the people she loves, overcoming her fears in the process and opening up to new feelings.
Fox is… a fox. He has been with Cerys ever since she found him injured and nursed him back to health. They're a pair of very unlikely friends. Fox changes a lot during the story, also overcoming his fears and giving a new meaning to loyalty. I loved his chatty, upbeat character so much and it pained me how he saw himself in the beginning of the book, but also what he makes of himself anyways.
I loved Cerys and Fox' relationship, the trust and uncertainty and the wonderful developments.
And Vala, you big, wonderful, magical bear. I loved Vala so, so much. She's basically the wise, old lady helping the younglings on their quest but she is an old, grumpy bear with a big heart and the wish to see the forest restored to its old glory. Fox, Vala and Cerys make such a cool trio and I'd read endlessly about them.
The story was mostly focused on the characters and their development which I loved. I like a good plot, but honestly? Give me well written characters and I'm happy. And those characters grow so much and conciously think about themselves, what they want and how to achieve their goals. They realize that not everything is decided yet and that they can choose their paths and where to grow their roots.
Among the Beasts & Briars is a beautiful, fairytale-esque story with a rich world that has so many more secrets to explore and quite honestly, I'm ready to do just that. Let me visit the other countries, follow the other characters, explore more of the woods. This book has just opened up a door into a world I'd love to see more of.
Rating: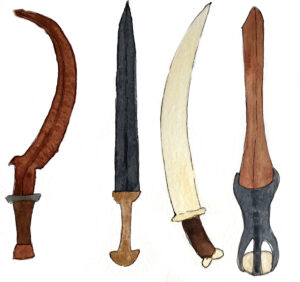 ---
YOU MIGHT ENJOY AMONG THE BEASTS & BRIARS IF YOU LIKE…
fairytales | the childhood friends to lovers trope | character growth | cursed forests | creepy atmophere | unlikely friendships | family secrets | wild magic | flowers | puns
---

Have you read a book by Ashley Poston before? Or a book with a forest setting? What animals would you like to travel with if you had the choice?
Interested in more by Ashley Poston?
Check out my review of The Princess and the Fangirl!
---
Until next time,