What is it about?
*contains spoilers for book 1*
Ia Cōcha never thought she'd be working for the Olympus Commonwealth. But that was before she found out her trusted brother Einn was trying to tear apart the universe. Now, Ia, the Blood Wolf of the Skies, has agreed to help the Royal Star Force on one condition: when she finds him, she gets to kill Einn herself.
Brinn Tarver has just come to terms with her Tawny identity when the public lashes out against her people, crushing her family. At her breaking point, she starts to question everything she believes in—including Ia.
After the death of his mentor, Knives Adams is doing his best to live up to a role he didn't ask for as Aphelion's new headmaster. Still, with each new step deeper into war, he feels torn between his duties and the pull of Ia's radical—sometimes criminal—ideas.
As they fight to keep darkness from eclipsing the skies, their unpredictable choices launch this breathtaking sequel to explosive new heights. (goodreads)
Book: Eclipse the Skies | Series: Ignite the Stars #2 | Author: Maura Milan | Publisher: Albert Whitman & Company | Published: 3rd September 2019 | Pages: 400 | Genre: YA science-fiction | TW: blood, death, betrayal, loss of loved ones
What did I think?
Why, oh why, did I wait so long to read this? I loved the first book and this one right here was even better. It was full of action and plot while still focusing on the characters and their development.
And those characters? I love them. Ia is such an amazing character, smart, reckless, does what she wants. And while she could survive on her own, she accepts help from others. She learns how to accept that help even she doesn't want it and feels weak. I loved seeing that vulnerable side of her as well.
Knives. The most ridiculous but also coolest name definitely belongs to him. Knives is a character who isn't the best at anything while being good at everything. He's kind of grumpy, but can be so sweet and soft as well. He never really wanted to be a leader, but he still accepts that role. But he still has other goals and things to take care of. And in the end, there's always Ia he comes back to. I seriously love these two so much. Their feelings for each other are not the main focus of the story and I enjoyed that so much. It was such a subtle subplot, just there enough to make my heart attach to them.
And of course I need to talk about Brinn for a second. While I don't like what she does, I really do understand why she does it. She had to live in fear for her whole life just because of what she was born as. When she finally accepts herself, all hell breaks loose and she just wants to find her place in the world and be valued. For that, she does terrible things but she still believes in the good and thinks about what is happening around her a lot. Brinn is full of grief and has lost hope and that just makes everything more understandable.
I also loved the side characters immensely. Never thought I'd like a Sinoblancas, but hey, here I am, liking two of them. Woah. And the plot was amazing as well, each character having a vital role to play, making discoveries that come together as a whole in the end. It was fast-paced and action-packed and I loved all the space stuff.
My Rating: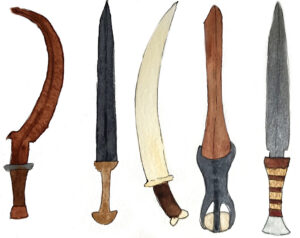 ---
Read my review for Ignite the Stars here
---
Until next time,