Hoohoo, friends.
Now is the time, it really is. I read more books than I got! And it's for real. Wow, go me. In May, I read 10 books, I finished the last one 5 minutes before midnight on the 30th. Please be proud of me. Well, what did I read?
---
Begin Again by Mona Kasten ★★★
Allie hasn't got the best relationship with her mother. Trying to leave her old life and self behind, she goes away to university. There, she moves in with Kaden, who seems to be pretty much an ass and who has rules. But slowly they get to know each other better and Allie starts breaking those rules.
I read this book in a day. It was fun and very easy to read. I liked the main character, as well as the supporting ones. It was nothing special though. Solid, but without major surprises.
---
A Court of Frost and Starlight by Sarah J. Maas ★★
This is a novella in the A Court of Thorns and Roses series and I did not like it. Sure, it had some good things, but to be honest? Nothing really happens. It deals with the end of the war and how it effects the characters in the story. But it's really short and basically just christmas in a fantasy world. You can read my full review here.
---
I was born for this by Alice Oseman ★★★★★
Angel is in the fandom of The Ark, a boyband. When they have a gig and meet and greet in London, she drives down there to go with her internet-friend. Jimmy is part of The Ark. His band is big in business, but not everything about being famous is actually great. Unexpected things happen, when the two of them suddenly meet.
I was in love with this book from page one. It features a hijabi and a trans boy with mental health issues as protagonists. The story deals with so much stuff from pop culture, the internet, fame and illnesses. The characters were likeable, the writing style so good to read. 11/10 would recommend.
---
Die Inseln der Paschas by Patrick O'Brian ★★★
Dieses Buch ist ein Teil der Aubrey/Maturin-Reihe, in welchem Jack zum Blockadegeschwader vor Toulon geschickt wird. Dort bekommt er einen neuen Auftrag: er soll mit den Oberhäuptern im östlichen Mittelmeerraum verhandeln und einem davon helfen, die Herrschaft über das gesamte Gebiet zu übernehmen.
Von der ganzen Reihe war dieses bisher vielleicht das schwächste Buch. Vielleicht war ich auch einfach nicht ganz in Stimmung dafür, aber ich habe Ewigkeiten gebraucht, um es zu beenden. Trotzdem hat es mir ganz gut gefallen, mit dem üblichen Humor geschrieben und mit alten Freunden und Feinden.
---
The unexpected Everything by Morgan Matson ★★★★
When Andie's father's political star falls, all of her summer plans get cancelled. She more or less stumbles into a summer job which is walking dogs. There, she meets Clark. Together with him and her group of best friends, she spends a summer full of love and laughter, but also a summer that might change everything.
While I had some problems to get into it in the beginning, I soon came to love it the further I got. It was so much fun to read, with hilarious characters and many cute dogs, as well as really great written friendship.
---
Juniper Lemon's Happiness Index ★★★★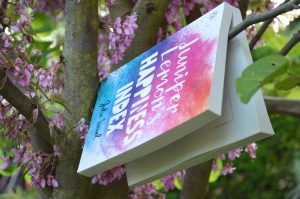 65 days after Juniper's sister dies in a car accident, she and her family have to deal with the loss. Juniper finds a letter addressed to a mysterious 'You', written by her sister. It is soon her goal to find this mysterious person, but she also has to deal with school and everything it brings with it: bullies, friendship and love.
This book had me hooked from page one. I loved Juniper's character. I also loved her interacting with the other characters. I also think the grief was very well portrayed, the different stages and the different effects it can have on different people.
---
The Unbinding of Mary Reade by Miriam McNamara ★★
Mary has been forced to act like a boy for most of her life to get the money of her grandmother. She does it so well, everyone soon thinks she is actually a boy. But everything changes when she joins her best friend Nat to go hunting pirates in the Carribean. They get separated and Mary joins a band of pirates and their captain, the infamous Calico Jack. Part of the crew is also Jack's lover, Anne Bonny, for whom Mary develops unexpected feelings.
This book has so much potential. Really, lesbians pirates sounds like a dream come true but unfortunately it was not. There is almost no world building, the characters are really weird and no character really stays in character. I wish I liked this book more, but I did not. You can read the full review here.
---
We are okay by Nina LaCour ★★★★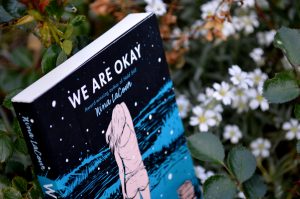 After Marin's grandfather and guardian dies, she leaves everything behind to go to university. She doesn't talk to anyone back home, until suddenly her best friend Mabel stands in front of ther door to visit her for three days. Marin is forced to deal with what happened these past months.
Damn, I cried. Even though this book is really short and only covers the time span of three days, it is very emotional with a big focus on the characters. And it is beautifully written, with just the right words at the right time.
---
The Cruel Prince by Holly Black ★★★
After Jude watches a mysterious man murder her parents, she and her sisters are swept away to the lands of fairy by the same man. They live with him and are raised as fairies. But the youngest son of the king, Cardan, does not let her forget that she is a human. Day for day she has to deal with him bullying her and her twin sister. But of course nothing is ever as it seems in fairy…
I'm not sure what to think about this book. On one hand I really liked it, because the story was great with tons of plot twists I DID NOT FORESEE. The world building was beautiful as well. But then there are the characters. I swear, this is the first book where every character is unlikeable. I did not even like Jude, the protagonist. And it's so hard to really enjoy a book when you can't stand the people in it, is it?
---
To kill a Kingdom by Alexandra Christo ★★★
The siren princess Lira has 17 hearts buried in the sand beneath her room – one prince for every birthday. When she angers her mother, she is cursed to be a human and to only return if she brings home the heart of prince Elian, a siren hunter.
I expected so much from this book, it was hyped everywhere. And yeah it was good, but nothing special. The two POVs are pretty similar, and while the siren world is supposed to be dark, it is only violent and nothing more, really. The characters we okay, but don't have much potential to linger in the reader's head.
---
And that's it! What did you read in May? What was your favourite book?