Only A Monster, book one in the Monsters trilogy was one of my favourite reads last year, so of course I absolutely had to read Never a Hero as soon as I could! I mean, time travel, morally grey characters, good vs. bad with a twist… what's not to love?!

Synopsis:
Despite all of the odds, Joan achieved the impossible. She reset the timeline, saved her family – and destroyed the hero, Nick.
But her success has come at a terrible cost.
She alone remembers what happened. Now, Aaron, her hard-won friend – and maybe more – is an enemy, trying to kill her. And Nick, the boy she loved, is a stranger who doesn't even know her name. Only Joan remembers that there is a ruthless and dangerous enemy still out there.
When a deadly attack forces Joan back into the monster world as a fugitive, she finds herself on the run with Nick – as Aaron closes in.
As the danger rises – and Nick gets perilously closer to discovering the truth of what Joan did to him – Joan discovers a secret of her own. One that threatens everyone she loves.
Torn between love and family and monstrous choices, Joan must find a way to re-gather her old allies to face down the deadliest of enemies, and to save the timeline itself.
Book: Never a Hero | Series: Monsters #2 | Author: Vanessa Len | Publisher: Hodder & Stoughton | Release Date: 29.08.2023 | Pages: 400 | Genre: urban fantasy, paranormal | Rep: Chinese-Malaysian-British MC, Chinese-British side characters, Chinese-Kenyan-British side character, mlm side characters and relationship | TW: death, loss of loved ones, torture (mention), trauma

*Note: This book was given to me via NetGalley from the publisher in exchange for an honest review*
Review:
I put off writing this review for weeks for one simple reason: I don't really know what to say. It's always easier to write reviews for books I didn't like but when I truly loved a book? It's somehow so much harder. I cannot find the words except for "it was so good, I loved it, please read it". Even though that is exactly what I want to say over and over again.
But I shall try and put into words my feelings. So, what did I love?
1) The pace of the story. We get thrown right into it, and it feels like not much time has passed since the end of Only A Monster. Right from the very beginning there is tension and action and fighting, running, fear. And it doesn't really change throughout the whole book, there is always so much happening, the characters never really getting a break. While the characters would definitely deserve a break, it was exciting for me that they didn't get one. I could not stop reading.
2) Joan and her family. I love Joan. She's smart and resourceful, trying to do what's right but allowing herself to be selfish. After everything that happened in the first book, after Joan destroyed the boy she loved to save her family, changing the timeline, she is the only one really remembering it (except for some of the Lius, who remember bits and pieces). She basically has the burden of all that knowledge and all that pain on her shoulders, she is traumatized and feels guilty, but also relieved and because of that more guilty. She is a jumble of emotions coming together in a body that has to function despite everything. And I truly loved how that was written. Her trauma really comes through, but also the way she pushes it aside, not ready to deal with it, instead hurrying from danger to danger.
I also loved seeing more of Joan's family's past and present. I like Ruth and liked seeing her back and out and about. But I really liked finally seeing more of Joan's history and how her family works and discovering more about her powers.
3) Aaron. Listen, I love him. He is precious, desperate for someone to actually see him and his potential, and I love him.
4) I still love the time travel and how it works and why it makes the time travellers monstrous. It's such an interesting concept and time as a currency makes so much sense.
5) London as a setting. It felt both incredibly real and unreal at the same time. Real because of all the descriptions and the atmosphere created. Unreal because of all the magical changes that felt like running through a video game world. But it fit perfectly together.
There was just one thing I was annoyed with and that was Nick. While I do like him with Joan, he's just so good. He's the embodiment of good. And that this was mentioned at every turn was repetitive and annoying. I just couldn't get warm with his character.
But Never a Hero was such an amazing book with a devastating ending that makes me want to read book 3 immediately, even though Never a Hero is not even out yet. This whole series is such a wild ride of action, grief, mysteries and monstrosities and I am here for every single thing of it. Never a Hero is an exciting, great sequel and to everyone who liked Only a Monster a definitive must-read.
Rating: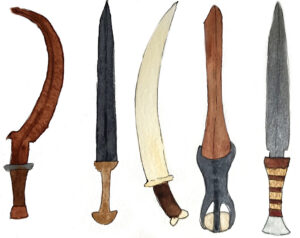 ---
YOU MIGHT ENJOY THIS SERIES IF YOU LIKE…
time travel | fast-paced plots | complex characters | complex relationships | hope for something better | well written trauma | mysteries | London | magic | good vs. evil | lovers to friends to enemies to lovers to enemies to ? | cute dogs
---

Have you read Only a Monster and plan to read Never a Hero? Do you have a favourite time travel story? If you could time travel, where would you like to go?
---
Until next time,