How often have I found myself rooting for the monsters and the supposed villains of a story? How often have I said the words "cool motive, still murder" and "wow I'd love to read that from the villain's POV"? Well, with Only a Monster, my wishes seem to have been heard. Let's see how I liked it, shall we?
AD / WERBUNG
Note: I received this book from the publisher in exchange for an honest review.

It should have been the perfect summer. Sent to stay with her late mother's eccentric family in London, sixteen-year-old Joan is determined to enjoy herself. She loves her nerdy job at the historic Holland House, and when her super cute co-worker Nick asks her on a date, it feels like everything is falling into place.
Then a Good Samaritan attempt gone wrong sends Joan spinning through time, and her life quickly begins to unravel.
Her family aren't just eccentric: they're monsters, with terrifying, hidden powers.And Nick isn't just a cute boy: he's a legendary monster slayer, who will do anything to bring them down.
As she battles Nick, Joan is forced to work with the beautiful and ruthless Aaron Oliver, heir to a monster family that hates her own. She'll have to embrace her own monstrousness if she is to save herself, and her family. Because in this story . . .
. . . she is not the hero.
Book: Only a Monster | Series: Only a Monster | Author: Vanessa Len | Publisher: Hodder & Stoughton | Published: 17.02.2022 | Pages: 416 | Genre: YA Urban Fantasy | Rep: Chinese-English MC and side characters, mlm side characters | TW: blood, death of loved ones, death, murder, alcohol, torture
---
---

Yes, my wishes have truly been heard. I got exactly the book I wished for. It's a classic story of good and evil – or is it? It is, but we get it from the perspective of the monsters that makes the reader question: Who are the monsters, really? What defines as good or evil?

Only a Monster was fantastically written. Not only plot- or characterwise but also when it comes to morals and how we understand the world. It gives so much to think about. The monsters and what makes them monstrous were well thought out, the way time plays a role in it all was so interesting and had me glued to the pages while simultaneously keeping my brain in action, trying to keep everything I read inside it and to remember the important details.
The story is so complex and has so many facettes that it really keeps you on edge, throwing in twists and turns at every possible moment.
I also enjoyed the characters a lot. Especially Joan, the protagonist. She's very smart with a big heart and a big dose of determination. She feels very strongly about what's right and wrong but sometimes she also can't help herself. She has flaws while also being good at what she does, even though she is sometimes too impulsive for her own good. I loved her narrative voice and how she sees the world and discovers that there is so much more to it than she thought.
Aaron I probably wouldn't like much if I met him in person, but I enjoyed him as a character. There is so much potential to him, something he himself probably hasn't realized yet. Sometimes he acts cowardly which Joan throws at him from time to time. Aaron's sense of self preservation is quite high, and his flight or fight response is usually set on "flight" but you know what? That also makes him cautious and since he is from a family of influence he also has a lot of knowledge.
I also liked Ruth, Joan's cousin, and Tom, a companion they pick up along the way to help them in their quest. I really liked the group and their dynamics, the tentative trust, the caution but also the friendships developing.
And then there's Nick. A hero. A monster of a whole other kind? Good? The whole time I was so torn between liking him and not liking him, I was torn between rooting for him and wanting something else. But to be truthful, I ended up liking him so much. Not only because he is very well written but I loved his goodness and how he couldn't help but stay true to himself despite the struggles and the trauma he went and is still going through.

I don't know??? I enjoyed the book from start to finish and just want more of it.
---
Everything about Only a Monster was just amazing. The characters, the concepts of time and space, the discussions about monsters and heroes. While these things shine through during the story, the book really made me wonder how monsters are defined. Especially when it's someone else defining you. I really liked how Vanessa Len plays with morals and the understanding of good and bad and grey zones and mixed all that with a lot of action, magic and a romance. Only a Monster is a truly wonderful book and I can't wait for more of it because there are still secrets and unsolved mysteries I need an answer to.
---
Rating: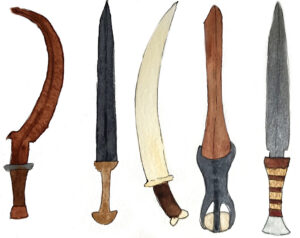 ---

you like love triangles where you're not sure if it's actually a love triangle and you root for everyone really
you like fast-paced stories
mysteries and family secrets
you enjoy time travelling stories
you liked Monsters of Verity by V.E. Schwab or the Firebird Trilogy by Claudia Gray
---
---

Have you read this book or plan to do so? What other books do you know that are told from the monster's POV? Do you have a favourite book about time travelling?
---
---
Until next time,