WERBUNG/ADVERTISEMENT
*I was given this book by the publisher in exchange for an honest review.*
What was it about?
Will the princess save the beast?
For Princess Jaya Rao, nothing is more important than family. When the loathsome Emerson clan steps up their centuries-old feud to target Jaya's little sister, nothing will keep Jaya from exacting her revenge. Then Jaya finds out she'll be attending the same elite boarding school as Grey Emerson, and it feels like the opportunity of a lifetime. She knows what she must do: Make Grey fall in love with her and break his heart. But much to Jaya's annoyance, Grey's brooding demeanor and lupine blue eyes have drawn her in. There's simply no way she and her sworn enemy could find their fairy-tale ending…right?
His Lordship Grey Emerson is a misanthrope. Thanks to an ancient curse by a Rao matriarch, Grey knows he's doomed once he turns eighteen. Sequestered away in the mountains at St. Rosetta's International Academy, he's lived an isolated existence—until Jaya Rao bursts into his life, but he can't shake the feeling that she's hiding something. Something that might just have to do with the rose-shaped ruby pendant around her neck…
As the stars conspire to keep them apart, Jaya and Grey grapple with questions of love, loyalty, and whether it's possible to write your own happy ending. (goodreads)

Book: Of Curses and Kisses | Series: St. Rosetta's Academy #1 | Author: Sandhya Menon | Publisher: Hodder & Stoughton | Publication Date: 18th February 2020 | Pages: 384 | Genre: contemporary YA, fairytale retelling | Rep: Indian | TW: emotional abuse by parents, blackmail
What did I think?
Sandhya Menon is one of my favourite authors. I love the stories she writes so much. They make me all warm and fuzzy and smiling. Of Curses and Kisses was no different in this, but I still felt a bit disappointed. The thing is, I liked this book (a lot), but something felt a bit off to me.
Let's just start with me saying that I absolutely adore fairytale retellings. Especially Beauty and the Beast ones because it's usually enemies-to-lovers and that is a thing I will never get enough of. And mix in a bit of high society youth and drama à la Gossip Girl? Great combination! So I loved the premise. And Sandhya Menon's writing. It was as great and fun to read as always.
But then there are the characters. I liked Grey the most. He grew up alone, isolating himself because he is sure to be cursed. So he's broody and grumpy and never really talks to anyone to keep them away and to save himself from getting attached. I understood his motivations and his goals and he goes through the msot changes during the story.
I had my problems with Jaya. While I understand the things she does, I'm not always okay with how she does them. She's straight forward and impulsive on one hand, but on the other she's the perfect princess she has to be. Jaya often comes across as really rude, controlling and doesn't seem to care about anything else except her family. That isn't a bad thing necessarily but she was supposed to be friends or at least kind of close with other people in this story. But I never really felt like it.
I did like Jaya and Isha's relationship. They're sisters and I understand why Jaya feel like she needs to control Isha to some extent. I would have liked to shake her at some points or others, but in general, I liked how protective and loving the two were with each other.
The other important relationship, the romance, was great as well. I liked how it developed from where it started and where it ended and how both characters grew with it and their feelings for each other. I think that they both learned a lot through the other which was nice to see.
But then the other relationships? Mh. They all seemed a bit rushed. I mean, they have this sort of insta-friendship that isn't ever really explained. And while I do like fast friendships, there still has to be a reason for that friendship? Or at least getting this close has to have an important event or something. And there wasn't any, really. I just wish those relations would have been a bit more extensive.
I did love the setting of St. Rosetta's Academy though! The subjects, the students and teachers and the general surroundings with the mountains and Aspen. I'm really excited to explore the school further with other characters and romances!
Rating: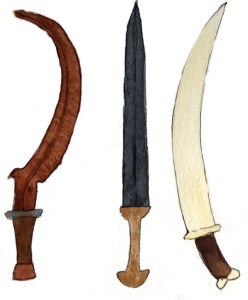 Thanks so much to Hodder & Stoughton for providing me with an early copy!