WERBUNG/ADVERTISEMENT: I received this book from the publisher via NetGalley in exchange for an honest review.
---
Sandhya Menon is one of my favourite contemporary authors. But somehow I couldn't really warm up to the first book in the St. Rosetta's Academy series, Of Curses and Kisses. Read on to find out if I liked book 2 more.
---
---
What is it about?
Caterina LaValle is determined to show she's still the queen of St. Rosetta's Academy. Sure, her crown may be slightly askew after her ex-boyfriend, Alaric, cheated on her, but she's a LaValle. She'll find a way to march right back in there, her hands clutching the strings to the whole puppet show. This time, she's going to be untouchable.
Rahul Chopra knows that moment he shared with Caterina LaValle at the winter formal meant something. Surely she feels it, too. He's a little uncertain how someone like him (socially inept to a point way past "adorkable") could fit into her world, but he's loved Caterina for years. He knows they'll find a way.
When Caterina finds out Alaric is taking a supermodel to the upcoming gala, she knows she cannot arrive without the perfect date. But the thought of taking another superficial St. R's boy exhausts her. The solution? Sweet-but-clueless Rahul Chopra and a mysterious pot of hair gel with the power to alter the wearer into whatever his heart desires.
When Rahul tries it, he transforms instantly into RC—debonair, handsome, and charming. But transformation comes with a price: As Rahul enjoys his new social standing, the line between his two personas begins to blur. Will he give up everything, including Caterina, to remain RC? Or will this unlikely pair find their way back to each other? (goodreads)
Book: Of Princes and Promises | Series: St. Rosetta's Academy #2 | Author: Sandhya Menon | Publisher: Hodder | Release Date: 08.06.2021 | Pages: 304 | Rep: Indian MC, Indian side characters, wlw side characters, social anxiety | TW: social anxiety, cheating (off-page), manipulation
What did I think?
I don't know why, I just can't seem to properly get into the world of the rich students of St. Rosetta's Academy. Which is making me sad, very sad indeed because I LOVE Sandhya Menon's books usually.
The concept of the book was so, so promising. Caterina seems to be your typical high school mean girl. But she's actually very compassionate which often conflicts with her dad's interests and her own need to be in control and safe herself from her own emotions. Rahul meanwhile is awkward and usually quiet, he loves to work with his mind. They are contrasts in every possible way, yet somehow they find to each other. First, when Caterina finally lets her walls down. And later, when both of them manage to open up more and more.
I really liked the two of them together. They complemented each other very well. Where I had my problems were Caterina and Rahul separately. Well, Rahul especially. He was really frustrating at times. The way he goes back and forth between himself and his alter ego RC was well written in that there were significant differences between them and that Rahul could transform into something completely different. But the way Rahul acted as RC, especially around his friends, was what really got me fuming. Listen, I know how it is to be the awkward friend in the group, the one not really seen or known by anyone else in the school. And I also know how it feels to finally belong. But finding your place shouldn't come at the expense of your friends or the girl you're in love with. Especially when she tells you how she feels.
I also would have wished to see more of Rahul's family. I would have liked to see their reactions to the new him or Rahul standing up to them. But they were only ever mentioned in passing as not exactly accepting of Rahul is. Generally, I just don't really find Rahul's character development all too believable throughout the whole book.
Caterina, I could understand so much better. The conflicts outside of school are actually spoken about and thematised. They play a huge role in her life. I feel like her journey in the book was better developed, richer and actually made a lot of sense.
Overall, I enjoyed this book. It was a good book for in-between but unfortunately nothing I'll remember for a longer period of time. I really wish I liked this more. But good news! I also feel like this was a case of "it's not you, it's me" in which I just can't seem to get into the whole world for whatever reason unknown to me.
Rating: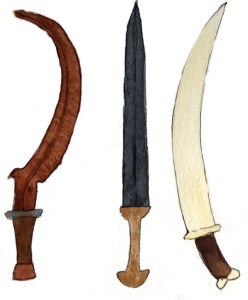 Read the review for book one, Of Curses and Kisses.