WERBUNG/AD
I received this copy in exchange for an honest review!
What's it about?
As the personal servant of the powerful Lord Rennard, the Shadow's life is all but forfeit. Rennard possesses one of five rare and dangerous Relics – a jewel that protects his bloodline, but slowly poisons everyone else in its proximity. When the current Shadow succumbs to its magic, nineteen-year-old blacksmith Kaylan is summoned to take his place.
It's an appointment that will kill her.
As the time Kaylan has left ebbs away, hope begins to fade… That is, until she discovers a plot to destroy all five bloodlines in possession of the Relics.
A rebel force plans to put an end to Rennard's rule and Kaylan suddenly finds herself embroiled in a cause that might just be worth fighting for. But no cause is without its costs…
As her life hangs in the balance and rebellion bears down on Edriast, Kaylan must decide where her loyalties lie – and how she'll leave her mark on the world. (goodreads)

Book: Relic | Series: The Relic Trilogy #1 | Author: Bronwyn Eley | Publisher: Talem Press | Publishing Date: 12th September 2019 | Pages: 498 | Genre: YA/NA fantasy | TW: death, blood, murder
What did I think?
With this prologue, you're basically thrown right into the story and it also hints that it's going to be dark. And believe me, it is. It is full of death, betrayal and a downwards spiral into craziness.
In this world there are Lords who rule their territories. All of these Lords have a Relic that protects them but affects anyone around them in a negative way, robbing their strength and their mind, slowly making them die. Therefore, every Lord has a Shadow, someone to attend to him, so others don't have to go near him. One to die for everyone else to live. The Shadow is chosen randomly from the people.
When the last Shadow dies, Kaylan becomes the new one. She thinks she is strong and will find a way out, she will find a way to be the last Shadow. But this proves to be harder than anticipated.
Nevertheless, she focuses on this goal. The problem is, that the Relic soon starts to affect her and she is stuck in this world of "What's real and what isn't?". I think the fight between reality and imagination is really well written, not Kaylan nor the reader truly know what's real and what has been only inside her head.
Of course, in a world like this, not everyone can be happy. Which means, there are people planning a rebellion. This is more of an undercurrent theme in this book, popping up here and there, making the rest of the story a little more spicy, if that makes sense. I hope to see more of this rebellion in the following books!
I really liked Kaylan as a character, she's headstrong and usually talks her mind. She tries to do what's best for her people but she allows herself to be selfish sometimes. I also liked the friendships she keeps and new ones she makes and I really hope we'll get to see some more of that in the following books. Because I wish there was a bit more background info and story for these characters.
I also liked the portrayal of families and especially Kaylan's. They all care about each other and family has such a big part in Kaylan's life and her priority is always to protect them.
One thing I didn't like much was the romance. It all went a bit fast for me and it was quite a "love at first sight" type which… is not exactly my favourite trope. I did like the love interest a lot, though. He's so sweet and caring but also knows his way around people.
This is a solid debut with love between family and friends, a great protagonist and the potential to become an amazing trilogy. Relic makes a great first book that introduces you to the world, but only just enough to make you want to know more and explore the story further, it leaves you with questions that make you want to read the sequel as soon as possible.
Rating: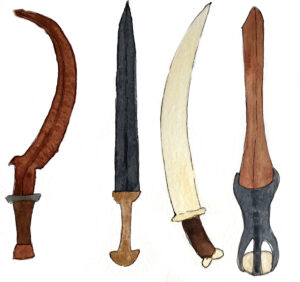 ---
Thank you, Talem Press!