Out Of The Blue by Sophie Cameron
Publisher: Macmillan | Published: 22nd March 2019 | Pages: 281 | Rep: lesbian, Sri-Lankan-Scottish, bi | TW: loss of loved one, death, blood, grief | Rating: ★★★★
What is it about?
When angels start falling from the sky, it seems like the world is ending. Smashing down to earth at extraordinary speeds, wings bent, faces contorted, not a single one has survived.
As the world goes wild for angels, Jaya's father uproots the family to Edinburgh intent on catching one alive. But Jaya can't stand this obsession and, still reeling from her mother's recent death and the sudden disappearance of her ex-girlfriend, she's determined to stay out of it.
Then something incredible happens: an angel lands right at Jaya's feet – and it's alive. (goodreads)

What did I think?
This book is really interesting in that it gives you a story that gives you many questions and only a few answers and half of them are only superficial. This is not a bad thing, not at all. It makes the whole thing better and makes you think. It tells the story of falling beingsthat look like angels. Are they angels? Are they something totally different? Why are they falling?
While no human knows the answers to these questions, humans certainly know one thing: how to make money. They don't know shit about these beings but of course they exploit them in one way or the other: for fanatic religious purposes, apocalypse theories or just to get rich. Out of the blue definitely doesn't show humanity from its best part, but it does show the good in humans, the compassion and love and the sense of doing what's right.
The characters are great. Even though the book doesn't even have 300 pages, the characters get a certain depth through their actions and motivations that are described in just all the right details. You can imagine this half-apocalyptic atmosphere, the tension of waiting and the hunger for news and sensation and the people who live for these events and the people who just want to belong and grief and love. And while this book feels somewhat unfinished, it gives you the more ideas of morals and humanity to think about.
Rating: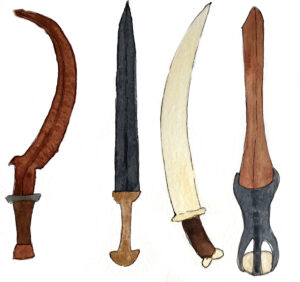 ---
I Wish You All The Best by Mason Deaver
Publisher: Push | Published: 14th May 2019 | Pages: 329 | Rep: non-binary, black, bi, muslim, anxiety, depression | TW: queerphobia, queermisia, anxiety, depression, broken family | Rating: ★★★★
What is it about?
When Ben De Backer comes out to their parents as nonbinary, they're thrown out of their house and forced to move in with their estranged older sister, Hannah, and her husband, Thomas, whom Ben has never even met. Struggling with an anxiety disorder compounded by their parents' rejection, they come out only to Hannah, Thomas, and their therapist and try to keep a low profile in a new school.
But Ben's attempts to survive the last half of senior year unnoticed are thwarted when Nathan Allan, a funny and charismatic student, decides to take Ben under his wing. As Ben and Nathan's friendship grows, their feelings for each other begin to change, and what started as a disastrous turn of events looks like it might just be a chance to start a happier new life. (goodreads)

What did I think?
I really did enjoy this book, it made me feel all warm, as well as angry and sad. Warm because Ben is a wonderful protagonist, they're just… I don't know, someone I want to put in a blanket and keep safe and warm and happy and be a friend for. Warm because Ben's friends are amazing, their banter and sarcasm, their love for each other. Warm because of the romance and how it was described. Warm because estranged family finds back to each other. Angry and sad because of what Ben has to endure through their parents and because many real young LGBT+ folx have to go through this.
This book is so real and has such a great main character in Ben with all the facettes and hopes and dreams and disappointments a life can have. Ben's feelings are so well portrayed.
I just wish the side characters would have had more of a backstory. It wouldn't be essential to the plot, but I nevertheless would have loved them.
Rating: