I was both very surprised and very happy when I received Seven Percent of Ro Devereux in the mail as it sounded so good and I was very excited for it. And I can safely say that I was right to be excited. Continue reading to find out why.
Synopsis
Ro Devereux can predict your future. Or, at least, the app she built for her senior project can.
Working with her neighbor, a retired behavioral scientist, Ro created an app called MASH, designed around the classic game Mansion Apartment Shack House, that can predict a person's future with 93% accuracy. The app will even match users with their soul mates. Though it was only supposed to be a class project, MASH quickly takes off and gains the attention of tech investors.
Ro's dream is to work in Silicon Valley, and she'll do anything to prove to her new backing company—and the world—that the app works. So it's a huge shock when the app says her soul mate is Miller, her childhood best friend with whom she had a friendship-destroying fight three years ago. Now thrust into a fake dating scenario, Ro and Miller must address the years of pain between them if either of them will have any chance of achieving their dreams.
Book: Seven Percent of Ro Devereux | Author: Ellen O'Clover | Publisher: HarperTeen | Published: 17.01.2023 | Genre: YA contemporary | Pages: 320 | Rep: bi side character, wlw relationship between side characters | TW: loss of loved ones, estranged parents
---

Review
Getting into Seven Percent of Ro Devereux was very easy. I was thrown right into the story and to Ro explaining her app. It was good to get this info right in the beginning. While Ro tells her teachers and a few other students about it, she also explains MASH's background to the reader without it being weird info dump. I also liked getting to see most of the important people of Ro's life in the same chapter already.
I truly enjoyed Ro as a main character. She is strong willed and fights to achieve her goals. She is proud and was also hurt when her mother left and both conciously and subconciously wants to make her mother notice her. This combination lets her make mistakes but I enjoyed how she owned up to them, how she thrives to be better even when she's hurt. I loved how imperfect she was. It made her relatable and likeable, the way she is simply a teenager who has not yet found her place in the world but desperately tries to.
I also loved Miller. I just want to wrap him in a blanket and read mythology to him and keep him safe from life's troubles. He has such a big heart but afraid of getting hurt again, shutting himself away. I liked how his friendship with Ro was depicted, the happy times, the fallout, getting to know each other again. The dynamic between them was so well written, their shared past, the years apart, the longing for each other, the familiarity between them, the love and support.
But I also enjoyed Ro's friendship with Maren. I loved how accepting of each other they both were, how they had such a tight bond while still leaving each other enough room to be themselves. I liked their whole little group so, so much. There was so much love in this book in general. There were amazing friendships, a romance that made me tear up but also the unconditional love of family and found family. It made me all warm inside.
I also liked the technical and psychological aspect of the book. These days, we have an app for everything and I liked how Seven Percent of Ro Devereux followed the question of "what if an app could predict every important aspect of your life?" How would people react to their results? Would they change? The story explores morals on different levels and shows why such an app might be useful but dangerous as well. It explores different lives and possibilities, making me think a lot about my own life and life choices. Added to that, the book is also YA which also brings in the aspect between younger and older people and how they might make different choices.
I absolutely loved Seven Percent of Ro Devereux. I loved the characters and their relationships, I liked exploring different possibilities alongside them. I loved how much this book made me think about humans and societies. This book isn't exactly thick but on these pages, Ellen O'Clover managed to write an amazing, thoughtful story about love and life choices and technology. The characters were incredibly real, the writing easy to get into, the conflicts well written and plausible. I cannot recommend this book enough!
Rating: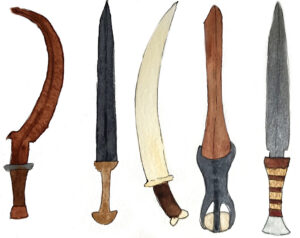 ---

Have you read Seven Percent of Ro Devereux or plan to? Would you use an app that could predict your future? Do you have a favourite book with estranged friends to lovers romance? What are some of your favourite literary friendships?
---
---
Until next time,