Sorcery of Thorns by Margaret Rogerson is one of my all time favourite books. So when Mysteries of Thorn Manor was announced, I was over the moon. I couldn't wait to get my hands on it and as soon as I did, sat down to read it.

Synopsis:
Elisabeth Scrivener is finally settling into her new life with sorcerer Nathaniel Thorn. Now that their demon companion Silas has returned, so has scrutiny from nosy reporters hungry for gossip about the city's most powerful sorcerer and the librarian who stole his heart. But something strange is afoot at Thorn Manor: the estate's wards, which are meant to keep their home safe, are acting up and forcibly trapping the Manor's occupants inside. Surely it must be a coincidence that this happened just as Nathaniel and Elisabeth started getting closer to one another…
With no access to the outside world, Elisabeth, Nathaniel, and Silas – along with their new maid Mercy – will have to work together to discover the source of the magic behind the malfunctioning wards before they're due to host the city's Midwinter Ball. Not an easy task when the house is filled with unexpected secrets, and all Elisabeth can think about is kissing Nathaniel in peace. But when it becomes clear that the house, influenced by the magic of Nathaniel's ancestors, requires a price for its obedience, Elisabeth and Nathaniel will have to lean on their connection like never before to set things right.
Book: Mysteries of Thorn Manor | Series: Sorcery of Thorns #1.5 | Author: Margaret Rogerson | Publisher: Simon and Schuster | Published: 17.01.2023 | Pages: 186 | Genre: YA fantasy | Rep: bi MC | TW: loss of family (in the past)

When I say Mysteries of Thorn Manor reads like fanfiction, I mean this in the very best sense of the word. This book is perfection. It's canon fanfic that makes my heart full and warm and soft and my mouth grin madly. It's slice of life of my favourite characters and I enjoyed every single page. I'd enjoy many pages more, too. I don't think I could ever get enough of these characters and their chaotic, magical lives. I think I might be rambling but I just love them so much.
And there were so many good scenes, too! Putting plants in their places via mop? Nice. Putting on a full suit of armor and clanking happily around the manor? Also nice. Pretending to fall asleep as not to be a part of a discussion? Relatable. Possibly killing someone over making fingerprints? Probably also relatable?
"She would battle villains, demons, monsters to keep him safe. If she could, she would even battle his memories."
I just. I don't know how to write a review for this novella. I have so many feelings I don't know how to put into proper words. But if you loved Sorcery of Thorns, you really shouldn't miss Mysteries of Thorn Manor. While Sorcery had a great ending, this one is basically a longer epilogue that manages to make the reader feel immediately comfortable and like visiting best friends. It has some surprises, but it all feels familiar and good and like something that's well taken care of.
I cannot thank Miss Margaret enough for writing Mysteries of Thorn Manor. It has a very special place in my heart. I love my steel obsessed librarian, absolutely chaotic bisexual sorcerer, stoic demon with a big heart (he'd never admit he has) and the mop swinging maid. I'm here for it all and I just want to read more about their mornings, their walks and the hidden rooms in the manor. The characters feel like friends and their home feels like my home.
Anyways, I'm rambling again. This was an absolutely wonderful and delightful book and definitely one I'm going to reread!
Rating: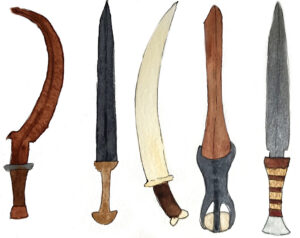 ---

Have you read any of Margaret Rogerson's books? Do you like novellas? Do you have a favourite?
---
Until next time,