WERBUNG / ADVERTISING
Review Copy
What is it about?
In 1872, New Orleans is a city ruled by the dead. But to seventeen-year-old Celine Rousseau, New Orleans provides her a refuge after she's forced to flee her life as a dressmaker in Paris. Taken in by the sisters of the Ursuline convent along with six other girls, Celine quickly becomes enamored with the vibrant city from the music to the food to the soirées and—especially—to the danger. She soon becomes embroiled in the city's glitzy underworld, known as La Cour des Lions, after catching the eye of the group's leader, the enigmatic Sébastien Saint Germain. When the body of one of the girls from the convent is found in the lair of La Cour des Lions, Celine battles her attraction to him and suspicions about Sébastien's guilt along with the shame of her own horrible secret.
When more bodies are discovered, each crime more gruesome than the last, Celine and New Orleans become gripped by the terror of a serial killer on the loose—one Celine is sure has set her in his sights . . . and who may even be the young man who has stolen her heart. As the murders continue to go unsolved, Celine takes matters into her own hands and soon uncovers something even more shocking: an age-old feud from the darkest creatures of the underworld reveals a truth about Celine she always suspected simmered just beneath the surface. (goodreads)

Book: The Beautiful | Series: The Beautiful #1 | Author: Renée Ahdieh | Publisher: Hodder & Stoughton | Release Date: 8th October 2019 | Pages: 432 | Genre: YA Urban Fantasy | Rep: lesbian | TW: blood, murder, mention of attempted rape
What did I think?
*I received this copy from the publisher in exchange for an honest review. This won't have any influence on my opinion.*
A YA vampire romance? In New Orleans? By Renée Ahdieh? Sign me the hell up for this. At least, that's what I thought and I expected this to be really damn good. But see, maybe that's the reason I was so disappointed in the end, my expectations just weren't met. I've loved Renée's previous books, especially the characters and their depth. The problem was that it were the characters that just fell flat for me.
I love books centered around characters and their development, I love going in deep. But this story seemed to only scratch on the surface. Celine, the protagonist is a fierce girl who goes her own way, not giving a damn about anything (at least when it's society, because she does care about friends). She doesn't really need anyone, but in New Orleans, she soon meets not one, but two young, attractive boys who like her immediately.
Sébastien is the apparent leader of the Court of Lions, a society of people with special talents. He is too pretty for this world, he's fearsome and his temper is short. So, what do we know of him? He grins and smirks a lot, he has principles and he is the devil. Or devilish. Or Lucifer. He is whatever words come to mind when you think of the devil. And to be honest, I don't really know why. Yeah, he's a brooding YA love interest, but what has he done to be deserved the title of Lucifer?
The second boy is Michael. He and Sébastien apparently hate each other, though Celine doesn't know why. He is also very handsome and also a detective in the police and instantly feels attracted to Celine. First, why? Second, how is someone so young so high ranking within the police? And he only ever seems to appear when Sébastien is currently unavailable or to annoy the latter.
I don't know if this is going to be a serious love triangle (which is my least favourite trope, so let's hope not), or if there is more meaning behind it.
Let's put these three characters aside. I did like Odette and Pippa, Celine's friends. Pippa arrived in New Orleans with Celine and is a gentle, pure soul and I'd trust her with my life. Odette is a member of the Court as well and damn, why isn't she the love interest? She is sassy, has a big heart and damn, I'd definitely date her. But seriously? I didn't really connect with any of the main characters, as much as I tried. I just didn't get them, couldn't feel with them, much less love them.
I did like the mystery around the murders though, as well as the inbetween chapters from the killer's perspective. They made me curious to know more and I really like what was done in that direction.
In general this book felt more like a concept with an awesome setting, premise and ideas but the realization just didn't work out completely. I'm really sorry to say this. This just felt unfinished in some way, left me confused more than once and annoyed on several occasions. But hey, there are vampires. I love vampires.
---
Rating: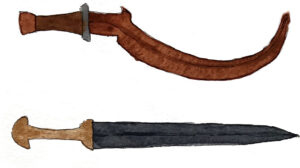 ---
Thank you Hodderscape for providing me with a copy of this!