I was both excited and nervous about starting this. There were so many possibilities for what could happen, in which directions the story could go. The Last Sorceress is the last instalment of one of my favourite series, The Price of Magic. I started reading The Ninth Sorceress a couple of years ago, not knowing how much I'd come to love the series. And now it's over, but I'm far from over it.

Synopsis
One sorceress fractured the world. Two may be enough to doom it.
Gwyn's victory against the risen dead has come at a terrible cost.
Aranor has fallen. In the capital, another sorceress rules from a stolen throne. Survivors of the demon war flock to Ailbhe Ahriddin's cause – and at her side: Alcide, captured and bound, his royal blood the key to enacting Ailbhe's ultimate scheme.
Scarred by loss and the choices she's made, Gwyn now holds Alcide's fate – and the fate of the world – in her bloodstained hands. As she struggles to unite a broken continent, ancient enemies begin to align, testing their powers against her own.
Lives will be lost and sacrifices made as the final battle looms. And in her darkest moment, the Ninth Sorceress will face an unthinkable choice.
Because magic comes with a price. But is it a price Gwyn is ready to pay?
Book: The Last Sorceress | Series: The Price of Magic #5 | Author: Bonnie Wynne | Publisher: Talem Press | Release Date: 16.03.2023 | Genre: Fantasy | TW: blood, self harm (for magic), loss of loved ones, death, murder, rape

Review
The Price of Magic is one of my favourite series and has become very dear to me over the years. I was very excited for The Last Sorceress, especially because my flatmate recently read the series and made me remember just how much I love these books. But I was also dreading this book because I've also come to love the characters and knew there would be things happening to them I wouldn't like. It is a rather dark series.
I didn't really have any expectations going in because this could simply go in every direction. That said, I was happy to sit down and read and hopeful for the road before me.
It was easy to get back into the story. It picks up where the last book ended, plunging the reader alongside Gwyn right into a fight for survival. I liked to see Gwyn and Enoch reunited even under the circumstances. I've always liked Enoch and despite knowing everything I know now, I still like him a lot. I also really enjoyed meeting all the other characters again, especially the mancers. They're such a weird bunch but I still think they are really cool. We get to see so many of Gwyn's old friends that feel like my old friends, I was really happy to have them back on the pages.
Of course, I was also happy to see Alcide again. Listen, these books and his story arc have really thrown me into a fit several times. During my read of The Last Sorceress, I hoped and I feared and I hoped again and feared immsensly.
I think I'm saying this in every review for this series but what I particularly love about it is all the travelling. In each book, we get to see more of the worlds and its territories. This is no different in The Last Sorceress, this time exploring more of Aranor, Mothmelech and Crater Deep. I simply love seeing all these new places through Gwyn's eyes, how she moves through them and sees their beauty and their dangers. I like meeting their inhabitants, each very different from their neighbor. I really enjoy these trips through Bonnie Wynne's imagination.
The Last Sorceress had more fighting scenes than its predecessor and while being a thick beast of a book, thanks to all the action it read very quickly. I love fighting scenes and how characters really become who they are at their core in their fight for survival, revenge, saving the world and saving their loved ones. They unravel the characters and the stories to their basics while still being highly entertaining to read. I can safely say that Bonnie Wynne knows how to write a fighting scene and make the chaos come across. What also comes across very well is the confusion on a battle field, the need for blood, the victory one needs at all costs.
Whew. The Last Sorceress was a wild ride in the very best sense. It had ups and downs, had me smiling and wanting to punch a king, had me hoping for a good ending just to crush these hopes on the next page and build them back up. This book is a fitting and amazing finale to an equally amazing series that leaves room for more imagination but also wraps up the story arc neatly. I can't believe I have to say goodbye to these characters after all these years. *bangs fist on table* everyone please read The Price of Magic series. Thank me later.
Rating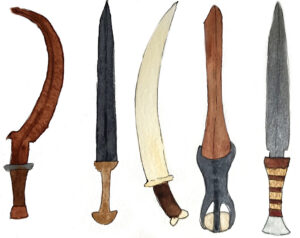 ---

What's your favourite underrated book? Do you have a favourite magic system?
---
Until next time,