WERBUNG/ADVERTISEMENT
*I received this book in exchange for an honest review*
What is this book about?
In the blackest dungeon of the Clockwork City, a prisoner lies bound in silver shackles. Who is she? And why are the wizards so afraid of her?
Seventeen-year-old Gwyn has no family and no past. Apprenticed to a half-mad herbalist, she travels the snow-blasted High Country, hawking potions in a peddler's wagon. Her guardian hides her from the world like a dark secret, and she knows better than to push for answers.
But when she discovers she is hunted by the goddess Beheret, Gwyn is drawn into a deep and ancient tale: of chained gods and lost magic, of truths long buried and the rising of a war she never could have imagined.
Wizards and their magic-sniffing hounds pursue her – as does a stranger in a smiling mask, who calls her by an unfamiliar name…
But what really terrify her are the dangerous gifts she's spent her life suppressing. Now, Gwyn must step out of the shadows and take charge of her destiny – even if the price is her own soul. (goodreads)

Book: The Ninth Sorceress | Series: The Price of Magic #1 | Author: Bonnie Wynne | Publisher: Talem Press | Release Date: 13th February 2020 | Genre: fantasy | TW: blood, death
What did I think?
Can we talk about the cover for a quick second? Because damn, I love it! The tarot cards, the necromancer, the whole ensemble is just very pleasing to my eyes and it represents exactly what it hides: dark magic, unknown powers and adventure.
Now that this is set, I need to say how much I enjoyed the book. Especially the writing & story telling style. It was rich and beautiful, having just the perfect dose of magic and details that make it haunting at some times, making you dream at others. I could picture everything so well, from snowy mountains to small villages to fights with magic and with weapons.
There were interludes now and then which made me just more and more curious about where the man character and the story were going. Usually, I'm not the biggest fans of interludes and breaks in the story, but here, they just fit really well.
I also liked the characters a lot. Gwyn, the protagonist, is amazing. She is really well written, with flaws and motivations and a lot of depth. What I especially liked is how you can discover the world with Gwyn, learn with her and really get to know her by doing that. In the beginning she doesn't know much about the world she lives in, she just knows that there are some rules and that some things are more dangerous than others. But she doesn't know about the people, not really. So when she goes on this story's adventurous journey, she delves deeper into the world and its society and the believes that keep them upright, Gwyn takes the reader right alongside her.
Gwyn isn't alone though. She travels with a grumpy wizard who's been alone for too long. Faolan and him are more or less constantly on  each other's throats. They both have to learn quite a lot, mostly about listening to others and learn from them.
They also travel with a shapeshifter, who is a softer, friendlier and more helpful companion to Gwyn that Faolan. To be honest, I'm hoping to see lots more of him in book 2. I don't even know why, but I instantly liked him, even though I'm not completely sure yet where exactly he fits into the story.
There was one character I really… think didn't have enough page time? I just think that he should have gotten more because he seemed so important and powerful but then he was just there. He actually fell a bit flat and I hope there will be more development for him further into the series.
I also enjoyed the worldbuilding and plot a lot. It was fast-paced, full of adventure and interesting facts about the world which was filled with different people and different kinds of magic, of gods and religion. It was so interesting to read about.
The Ninth Sorceress is a very solid debut and I'm excited to find out where it will go!
Rating: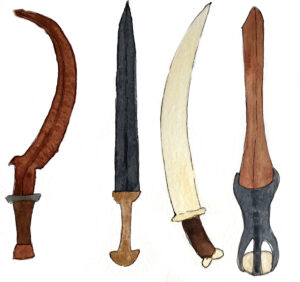 Liked my review and are now curious? You can get this book on Amazon. (Advertisement)