It is no secret that I love Ashley Poston. I devour all of her work, usually as soon as I can get my hands on it. For whatever reason, I waited with The Seven Year Slip. Until I read a positive review by a bookstagramer whose taste in books I trust (@saltforthesea) and I had just finished my previous read, so I finally picked up The Seven Year Slip. Did I end up loving it as much as the rest of Ashley Poston's work?
---

Synopsis
Sometimes, the worst day of your life happens, and you have to figure out how to live after it.
So Clementine forms a plan to keep her heart safe: stay busy, work hard, find someone decent to love, and try to remember to chase the moon. The last one is silly and obviously metaphorical, but her aunt always told her that you needed at least one big dream to keep going. And for the last year, that plan has gone off without a hitch. Mostly. The love part is hard because she doesn't want to get too close to anyone—she isn't sure her heart can take it.
And then she finds a strange man standing in the kitchen of her late aunt's apartment. A man with kind eyes and a Southern drawl and a taste for lemon pies. The kind of man that, before it all, she would've fallen head-over-heels for. And she might again.
Except, he exists in the past. Seven years ago, to be exact. And she, quite literally, lives seven years in his future.
Her aunt always said the apartment was a pinch in time, a place where moments blended together like watercolors. And Clementine knows that if she lets her heart fall, she'll be doomed.
After all, love is never a matter of time—but a matter of timing.
Book: The Seven Year Slip | Author: Ashley Poston | Publisher: Berkley | Published: 27.06.2023 | Pages: 352 | Format: Paperback | Genre: Romance | Rep: wlw side characters, wlw couple, Hispanic side character | TW: loss of loved ones (in the past), alcohol, suicide discussion
---

Review
Well. Did I like the book? It would be an understatement to say that I did. I liked it, loved it, cherished it, felt it in my very bones. This might be one of my all time favourite romance books, if not even books in general. I read The Seven Year Slip in one sitting and I felt so many emotions. She has the range.
But I shall put this into some kind of order.
First of all, I adored the characters. Clementine works hard for what she loves, she is sometimes impulsive, mostly lets her heart make decisions for her. Sometimes, she has to be dragged out for an adventure, but then she also would never say no to having one. Especially one of the travelling kind with her aunt. Clementine's world changes when her aunt dies and she inherits her apartment. Something is off for Clementine, she has to deal with grief, not only the grief of losing a loved person but also the grief of what her aunt's presence did for her. She is dimmed, somehow, not allowing herself to really break down, she feels like she needs to push through but there is always that shadow of a loss. She still doesn't lose her spirit and lets herself fall into things that might be scary, emotionally.
And then there's Iwan who rents her aunt's apartment for one summer seven years in the past. They meet one evening when the apartment decides to send Clementine back in time. Even though her aunt told her about the magic of the apartment and Clementine believed it, she never truly understood until that point. After some initial (pillow) fighting, the two decide to make their situation work and hit it off immediately. Iwan calls her Lemon and cooks for her, is super sweet and open and lovely and cares for her. None of them plan to fall, but after a weekend of not leaving the apartment, the two of them fall.
The problem is: leaving the apartment sends Clementine back into her own time and she won't see Iwan again for months. But from time to time the apartment sends her back over the course of the summer and the two always pick right up where they left off, talking, falling in love. While in Clementine's present, she meets Iwan again, though he changed and while he is still him, there are parts that Clementine can't really combine with the Iwan from seven years back.
And I absolutely loved this part and how it was written. The different timelines and how both characters are changing. We get glimpses of Clementine's own past, then see it in contrast to her present and same goes for Iwan. They're both younger, more naive in a lot of ways, then grow up and into the person their surroundings shaped them to be but also the persons they wanted to be. And while there are many contradictions and differences to the person they thought they knew, they cannot let go of each other. Time and time again they meet, they discover something new, yet something known. Their relationship was so well written, I got every little detail and nuance in change, making these characters come alive in my head. They see the best of each other, also the very worst, they also bring forth the best in each other and accept them for who they are, even if it doesn't always fit the picture they made in their heads. The story captures them and their growth and development so very well.
Another thing I really loved about The Seven Year Slip was the aspect of grief. At the start of the book, Clementine's aunt has been dead for 6 months and while she seems to function normally, there are little things that show her grief. She is lost without really realizing that she is. She stopped painting and travelling, both things she was passionate about but always did with her aunt. The empty apartment somewhat haunts her. But I loved how Clementine was so full of love for her aunt and how her loss was written and how Clementine deals with her grief and who she lets in and become a part of it.
Which brings me to the aspect of family in The Seven Year Slip. While Clementine has a good relation to her parents, her friends Drew and Fiona are also her family. They were there when her aunt died, they are there for every part of Clementine's life, both at work and off it. I loved this trio and its dynamic and their conversations that truly made me laugh.
The Seven Year Slip just perfectly combines love and loss and longing, humor, friendship, grief, trust and change. My heart is full of emotions and I let them all out during my read. I laughed (loudly) and I cried (also loudly). Lemon and Iwan live rent free in my head and my heart and just. I am so full of love for this book? Just writing these sentences makes me tear up again. This is definitely a book I'll reread and find new things to love with each new read. I LOVE THIS BOOK SO MUCH.
Rating: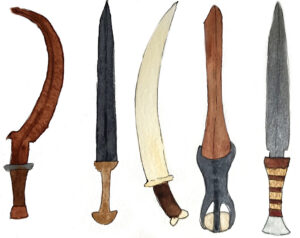 ---
YOU MIGHT ENJOY THE SEVEN YEAR SLIP IF YOU LIKE…
time travel | estranged lovers | New York | food | cooking | nicknames | stories about the book industry | tight friendship groups | characters working through grief | art | maybe it's destiny | warped reality | passionate characters | forbidden love
---
---
Other books by Ashley Poston I've reviewed:
---
---

Have you read anything by Ashley Poston yet? Do you like books with time travel? Where in the world would you like to go on an adventure? And who would you take on that adventure?
---
---
Until next time,