The Once Upon A Broken Heart series by Stephanie Garber is easily one of my favourite series. I already really enjoyed Caraval but this spin-off really hit a whole other level. I fell in love with Jacks and Evangeline and A Curse For True Love was one of my most anticipated releases of the year. But could it live up to my expectations?
---

Synopsis
Evangeline Fox ventured to the Magnificent North in search of her happy ending, and it seems as if she has it. She's married to a handsome prince and lives in a legendary castle. But Evangeline has no idea of the devastating price she's paid for this fairytale. She doesn't know what she has lost, and her husband is determined to make sure she never finds out . . . but first he must kill Jacks, the Prince of Hearts.
Book: A Curse for True Love | Series: Once Upon a Broken Heart #3 | Author: Stephanie Garber | Publisher: Hodder & Stoughton | Published: 24.10.2023 | Genre: fantasy | Pages: 387 | TW: blood, murder, abduction, manipulation
---

Review
When I picked this up at work, I told my colleague giddily that I've waited over a year for this book and started reading it the same evening. It was easy to get back into the story but I quickly felt like something was off. First of all I had to wait ages for Jacks to even make an appearance and let's face it, a lot of us read this series for the Jacks scenes. I definitely am. Jacks for pres and all that. This read like an Evangeline and Apollo book in which Jacks has a side role.
Then there was Apollo's POV that I simply didn't care about.
I admit, it was interesting to see his inner workings and how he manages to shape the world into something to his liking. And how he twists and turns everything into something working out for him. But I just didn't care about him and even with his chapters that made me understand him better, I still did not like him or care about him in any way. Especially because he's basically a walking red flag. I found myself wanting to skip his chapters (but I didn't because I thought things essential to the story would happen).
And then nothing happened. Evangeline slowly realizes that not everything about Apollo is as it seems and that her memories are missing for a reason. But only when Jacks finally makes an appearance does she start to remember. Problem is, that happens so late into the story that the whole first part was a back and forth of Evangeline with her missing memories and Apollo doing very questionable things. The whole action was in the later chapters and while I rushed through those, I really had to fight to keep reading during the first half.
I was really hoping for more tension between Evangeline, Jacks and Apollo. They were all separated from each other a lot and when two of them actually were in a scene together it always fell flat somehow. There was talk but no real talk. There were a lot of expectations between the characters and so many words unsaid I wish they would have told each other. And then in the end it all breaks out of them and it just all felt rushed, misplaced and just off.
A Curse for True Love was probably the biggest disappointment for me this year. While I absolutely loved the first two books and especially the second, Curse just fell short. Not even Stephanie Garber's beautiful and fairytale-eske writing style could save this mess for me. I waited a few days to write this review to not write an angry rant but I realized the more I think about this book the more disappointed and angry I get. To be honest, if you liked the first two books, just skip this finale and imagine your own ending to the story of Evangeline and Jacks.
Rating: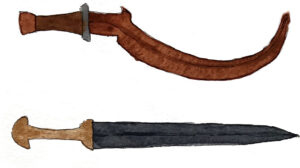 ---
---
Want to know more about the series?
Review for Once Upon A Broken Heart
---
---

Have you read the Once Upon A Broken Heart series? What did you think of A Curse for True Love? What was your latest bookish disappointment?
---
---
Until next time,