Hoohoo friends,
while I was taking for bookstagram, I noticed that there are certain words that seem to belong into book titles. Since I read YA mostly, they are mostly YA books. The thing is, those "Create your YA title"- generators are very often "… of … and …". And they are for a reason. I took a closer look and found words from several categories that appear a lot: royal words and titles, family words, natural elements, things relating to the human body, and anything to do with the sky. So I started to count them and decided to start a little series, showing you some books from those categories, probably analyzing some titles and giving summaries (but in like, a fun way? hopefully.) Anyways, this is number one and it's all about
ROYALTY
The Queen
Queens are usually evil or underrepresented. I mean, the protagonist in YA books is a prince or a princess, almost never a queen. So the queens have the role of the annoying / softhearted / sick / evil / boring / dead mother. In which YA book does a queen really have a big role to play? Of course, most princesses sooner or later become queens. Don't be surprised to find the German words for those titles in this text. (Queen = Königin). Which Queens hide on my shelves? Hint, there are 13 of them.
Red Queen by Victoria Aveyard
This is a book about a young girl with red blood who tries to survive in a world where people with silver blood rule. Those silver blooded people have special powers but – oh wow! The red girl has powers too! She disguises herself as a long lost silver princess.
But is she a queen? No, actually she is not even royal but hey, red princess sounds weird.
The Forbidden Queen by Anne O'Brian
The Queen of the Tearling by Erika Johansen
The Shadow Queen by C. J. Redwine
Queen of Shadows by Sarah J. Maas
Spoiler for those who have not read the Throne of Glass in its entirety series yet: this book actually tells the story of a queen! Our protagonist is a long lost queen! Who would have guessed? Wow.
The Star-touched Queen by Roshani Chokshi
Princess becomes queen of a foreign, very strange and very mysterial country. Another queen! I love when titles get a thing right.
Elfenkönigin by Bernhard Hennen
Die Königin der Drachen by George R.R. Martin
Queens of Geek by Jen Wilde
Not actual queens but surely the queens of my heart! The two protagonists are amazing! One is a fangirl through and through, the other is a youtube – and film star. They are best friends and they visit this convention that could change their life and yep, they are Q U E E N S.
Die Königin der Quelle by Heide Solveig Göttner
Die dunkle Königin by George R.R. Martin
Im Dienste der Königin von Karla Weigland
The King
The king is mostly an authority figure who makes rules the protagonist loves to break. Either the king is strong but has a very soft heart for his children and they can do what they want. Or he can be the thing his children despise and what they don't want to be. Or, the protagonist doesn't know the king but they rebel because he did something bad. Or because he is just plain evil. In this category, I can find 11 books on my shelves.
King's Cage by Victoria Aveyard
The Demon King by Cinda Williams Chima
Daughter of the Pirate King by Tricia Levenseller
Die Könige der Elben by Alfred Bekker
King's Rising by C.S. Pacat
Spoiler for the whole series: Those stupid princes finally become kings. And you know what? The title fits! I love fitting titles! I said that before, but I do. It changes from Prince's something to Kings and it's great! Also gay protagonists. But also a lot of violence and pretty graphic sex and rape scenes.
The Raven King by Maggie Stiefvater
Könige der ersten Nacht bei Bernhard Hennen
Die Sturmkönige by Kai Meyer
It's been some years since I've read those books but I think there was a lot of magic and djinns and evil djinns terrorizing humans and smugglers and traders with flying carpets?
The Serpent King by Jeff Zentner
The Princess
The Princess, either a runaway or she does not know she's a princess. I'm only talking about protagonists here, of course. The princess usually does not feel appreciated enough or is very un-princess-ly by which I mean she does not do what her parents tell her. She falls in love with another boy than the prince she is supposed to marry, she likes sword fighting more than she likes politics, she is just stupid. Or she is a peasant girl who barely escapes a murder attempt and then finds out she is the princess of a great country. You know what I'm talking about.
The Princess saves herself in this one by Amanda Lovelace
Not YA, but wonderful, heartbreaking poetry that made me feel things I forgot I know how to feel. I can definitely recommend this beautiful piece of writing.
Clockwork princess by Cassandra Clare (x2)
Poison Princess by Kresley Cole
The Prince
While there are not many titles that include 'princess', there sure are a lot more princes in YA. The prince is usually the love interest of our young princess or special peasant girl. He is arrogant but skilled with weapons and words but finds his equal in the protagonist. The prince is always good looking, unless he is not the love interest nor the protagonist. Then he is a stupid, cole asshole. Or an ugly guy who does not appear much in the story but likes to read. Or he is the best friend of the good looking love interest prince.
The Cruel Prince by Holly Black
Der Prinz der Elfen by Holly Black
Um, this book isn't even called anything with prince in the English original. If you were wondering, it's The Darkest Part of the Forest. And guess what, the Prince is a love interest and someone otherworldly.
Clockwork Prince by Cassandra Clare
Prince of Shadows by Rachel Caine
Prince of Thorns by Mark Lawrence
Well, this boy definitely has thorns. He is the exiled, unwanted son of a king who roams the lands with his band of bad boys and murders people and wants to get back into the castle for vengeance and also to claim his throne. Much blood, much violence, not so much character.
Captive Prince by C.S. Pacat
Prince's Gambit by C.S. Pacat
Prince of one country gets imprisoned and becomes the slave of a prince of the rivalling country. They hate each other but have to work together nevertheless. Gay. Violence and explicit sex and rape scenes.
Harry Potter and the Half-Blood Prince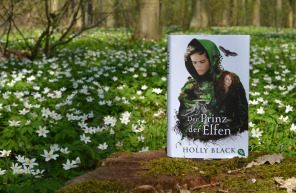 Other aristocratic titles
A look into my shelves shows: There aren't many. Though I am pretty sure, that there are more than those which have found a home with me. By 'other aristocratic titles' I mean things such as Lady, Lord, Earl, Baroness, …. Those things.
My Lady Jane by Cynthia Hand, Brodi Ashton & Jodi Meadows
Lady Midnight by Cassandra Clare
Lord of Shadows by Cassandra Clare
The Lord of the Rings by J.R.R. Tolkien
Lord of the flies by William Golding
That's it. That's the royals and aristocrats. I wanted to include places where a royal is and things royals need, but I decided against because this would probably get too long. So I'm going to stop and make another list at another time.
Lots of love
Kat
Did you ever notice how some words appear in book titles very often? Which words did you notice? Can you think of any books I missed on mylist but that would fit in the categories?