Ad | I received this book in exchange for an honest review.
What is it about?
*please note that this is the second book in a series and that there will be spoilers for book 1 in the synopsis and the review!
Months of imprisonment have forged Gwyn into something new; something dangerous. Eight dead sorceresses whisper in her ear, hungry for blood and vengeance – and after unleashing the red magic to make her escape, she fears she won't be able to stop.
All Gwyn really wants is to go home. But as she soon discovers, escaping the Clockwork City may prove an impossible task. The wizards of the Syndicate wage a silent, bloody war over her fate, and to survive, she must play their deadly game.
As strange storms ravage the city and wizards start turning up dead, Gwyn finds herself in more danger than ever. With enemies on every side, the immortal Scions massing their armies, and the dark power inside her growing stronger, she must make a choice… To save everything she loves, is she willing to become the monster the Syndicate fears?
Book: The Ninth Sorceress | Series: The Price of Magic #2 | Author: Bonnie Wynne | Publisher: Talem Press | Release Date: 19th November | Genre: dark fantasy YA | Rep: lesbian side characters | TW: blood, gore, death, manipulation, physical abuse, mental abuse, trauma, self harm (for magic)
What did I think?
I have to admit that I forgot a lot of what happened in the first book. But it was easy to remember because the events from the first book influenced both the characters and the world so much. They are often mentioned and Gwyn, the protagonist, often thinks about them and what they mean for her personally. After refreshing my memory a bit, it was easy to find into the story again, especially because the author threw me right into it.
The story starts where the first book ended and wow, was that a wild ride. After all the travelling of book one, we stay in the Clockwork City now. I really enjoyed the setting and getting to know the wizards', um sorry, mancers' city. It's a fascinating place, small, yet there are so many different facettes, so many things to discover and Gwyn gets to see a lot of them, wether she wants to or not. And so the reader explores with her the darkest dungeons and the highest towers, bathhouses and studies, narrow streets and libraries. I loved reading about the city and its inhabitants. And I especially liked to read how Gwyn fit in there.
I really, really like Gwyn as a character. She's trying so hard to do what's best for herself and the one she loves, she's flawed and sometimes egoistic but she's fierce and has her heart on the right spot. She's struggling a lot with who she is and what people expect from her. She's torn between what she knows about herself and being a sorceress and has to be constantly careful because of it. And it really takes its toll, she's seen and experienced so much, she's traumatized and yet she always tries her best. Gwyn makes space for herself in this world where almost everything is against her. She also makes space for herself in my heart. Gwyn really grew on me during this book. And you know who else grew on me? Enoch. If anything happens to him, I'll probably cry.
But I also enjoyed the other characters and getting to know them and their lives. Through them we learn more about the different peoples and their cultures. I liked reading about their motivations and their positions in the city and the world and what they thought of Gwyn and why. There were friendships, tentative ones, those that are born out of necessity, those that will probably last a long time.
A Wind from the Rift was character focused while at the same time having a fast plot full of action. I absolutely loved this combination! The characters, the fast pace and the magic were an amazing, delicious mixture. Even though I had to get back into the story first, once I was, the book transfixed me and I read it in two sittings. I could not stop reading, it really was a bit addictive. For me, it was the perfect second book! I can't wait to see where Gwyn's journey is going and if she succeeds in her mission. I need to know. Now.
Rating: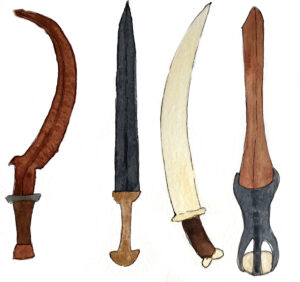 Here's my review for book one in the series, The Ninth Sorceress.
I also did an interview with the author, Bonnie Wynne!