I always get extremely happy when I open my mails and see something from Talem Press! They have published amazing books and Bonnie Wynne's Price of Magic has become one of my absolute favourites. So of course I was VERY excited when I got the opportunity to read An Echo Through the Veil in advance and read it as soon as I could… but did it live up to my expectations?
---

Synopsis:
The sorceress Ailbhe Ahriddin has cracked wide the gates of Death and loosed hell upon an unsuspecting world. Plague sweeps the land, and the dead begin to rise from their tombs. Gwyn, still reeling from the fallout of her battle with the Scion Iahta, is the only one who can set things right – if she dares to harness the ancient power stirring inside her.
An emperor's invitation leads Gwyn to the fabled kingdom of Shatse, whose mist-wreathed depths may hold the secret that will save them. But is she willing to pay the price the emperor demands?
With hope fading and reality beginning to unravel, Gwyn may need to go where even necromancers fear to tread – beyond the Sixth Circle of the Lurk, to the crumbling centre of Death itself.
Book: An Echo Through the Veil | Series: The Price of Magic #4 | Author: Bonnie Wynne | Publisher: Talem Press | Genre: Fantasy | TW: blood, death, murder, sickness, manipulation, gore, torture, self harm (for magic)
---
MY OPINION OF AN ECHO THROUGH THE VEIL
It's become so easy for me to lose myself completely in this world and its characters. From page one, I was sucked back into the story. Even though I tend to forget a lot of things inbetween instalments, it was easy to remember things here and understand everything. I am just SO invested in this series. It hasn't become a favourite for nothing.
I really loved Gwyn in this one. During her journey she has come so far, both with her position in the Syndicate, as well as her personal development. She had to grow up very fast but it worked really well for her. While she still has a lot to learn about her powers and about the world and the magic(s) surrounding her, she is really becoming herself. Gwyn, over the course of four books now, is on a quest to find herself and her place in the world. And in An Echo through the Veil, she really manages to carve that place and find who she is and who she wants to be. I loved that development and the confrontations she has with herself but also with others, having to actively tackle the questions of "Who am I and where do I want to go?"
While I had a bit of a rough start with Alcide in book one, The Ninth Sorceress, he has really grown on me during the last book but especially during this. Without spoiling anything… but there is something I saw coming and I really, really hope it works out.
I love that we get to know more about him and the mysteries he's cloaking himself in. He's slowly opening up a bit and I loved getting to know him better so much because he is such an interesting character.
I was also happy about seeing the other characters again, especially Faolan. He's such a grumpy asshole, I love him.
As always, I was very happy about visiting yet another country in this world. Each book, the reader gets to discover new places alongside Gwyn and her group. This time, it's Shatse, a closed-off country nobody really knows much about. I'm still not sure what to think about this country and how it's described. I mean I know my Ancient Egypt and of course I see some parallels. Especially when it comes to the naming of people and places. And uhh… I guess Shatse was inspired in parts by ancient Egypt since most characters have very Egyptian sounding names and the descriptions of the buildings and pyramids sounded also very Egyptian.
The names made me cringe though because Egyptian names actually meant something. They're usually made up of several words to make a little sentence or it's just a one word name that actually means something. But maybe it's my egyptologist brain interpreting too much into it.
But apart from that, I absolutely enjoyed this book and basically flew through it. I couldn't get enough of Gwyn's journey and her quest to rid the world of plague and demons and to make past wrongs right. Her own wrongs, but also previous sorceress's wrongs. Gwyn is giving her everything for this world and I'm both excited and afraid of where it will lead.
Rating: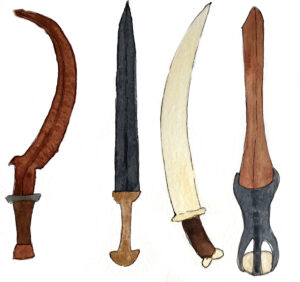 ---

Have you started The Price of Magic yet? What are your favourite underrated fantasy series?
---
YOU MIGHT ALSO LIKE…
---
Until next time,