WERBUNG/AD
*I received this book from the publisher in exchange for an honest review*
What is it about?
Jade Khanjara and her three best friends rule their glittering LA circle. They decide how the party ends – every night but one. The night four boys spike Jade's drink, lock her in a room and brutally attack her. The night they try to ruin her.
But they chose the wrong girl. Certain that the boys will face no consequences, Jade and her friends take vengeance into their own hands. There's no mercy left: and now Jade won't rest until she gets bloody satisfaction . . . (goodreads)

---
---
Book: Foul is Fair
Author: Hannah Capin
Publisher: Penguin
Publishing Date: 16th January, 2020
Pages: 336
TW: blood, rape, murder, drug abuse, mental and physical abuse
Rep: trans, sapphic
genre: YA contemporary
---
---
What did I think?
Wow. This book was something. Foul is fair is a Macbeth retelling centered around a girl taking bloody revenge on her rapists. Now, I've seen Macbeth in a theatre about 200 years ago, so of course I couldn't remember everything. Basically nothing, but that didn't matter. You don't need to know Macbeth, but if you do you recognize certain things and you'll just get happy about yourself that you know stuff and that's a bonus, I guess?
But back to Foul is Fair. It's one of the best revenge stories I've ever read. Was it bloody? Yes, verily so. Was there murder? Yes. Was it twisted and dark af? Yes. Did I enjoy it anyway? Hell yes. That's what made the appeal of the story. That, and the characters.
There's Jade, the protagonist. The girl who is rape and wants the revenge she wouldn't get on normal ways, because she's up against the rich boys who can do what they want. She refuses to be weak, refuses to break. Instead, she is determined, smart and clever, scheming. Together with her three friends (her coven) she works out a plan to get revenge. I absolutely loved this group. They would do everything for each other. If one needs anything, the others will be there, no matter what. And that's exactly what they do. For this story, Jade is the one who's in charge, who's on the path of revenge and the coven is behind her. Their friendship is so strong and so powerful. If this were a fantasy books, those four could rule the world.
The girls' targets are a group of boys from St. Andrew's who assaulted Jade at a party. She transfers to this school to take her revenge one by one. To get to them, she picks out a boy, Andrew Mack. The boy who wasn't envolved but knows enough. It seems like this might get a love story, though it's clear from the very beginning who is playing and who is being played with. He is a way to get what she wants.
Hannah Capin has written such a bold and powerful, twisted and messy (in the best way) story. The writing style was so good, so fitting, staccato sentences having my eyes glued to those words, wanting more and more while my brain felt like being fucked with for most of the time. I was on edge and I read this book so fast. I'd recommend this book to everyone, especially survivors, but be aware that there are major trigger warnings.
Rating: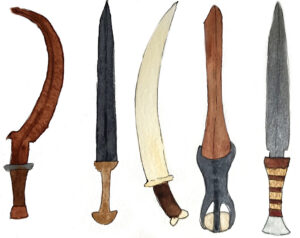 Thank you so much to Penguin Books for providing me with a copy of this book via NetGalley!