WERBUNG/ADVERTISEMENT
*I received this book from the publisher in exchange for an honest review*
What is it about?
Ximena is the decoy Condesa, a stand-in for the last remaining Illustrian royal. Her people lost everything when the usurper, Atoc, used an ancient relic to summon ghosts and drive the Illustrians from La Ciudad. Now Ximena's motivated by her insatiable thirst for revenge, and her rare ability to spin thread from moonlight.
When Atoc demands the real Condesa's hand in marriage, it's Ximena's duty to go in her stead. She relishes the chance, as Illustrian spies have reported that Atoc's no longer carrying his deadly relic. If Ximena can find it, she can return the true aristócrata to their rightful place.
She hunts for the relic, using her weaving ability to hide messages in tapestries for the resistance. But when a masked vigilante, a warm-hearted princess, and a thoughtful healer challenge Ximena, her mission becomes more complicated. There could be a way to overthrow the usurper without starting another war, but only if Ximena turns her back on revenge—and her Condesa. (goodreads)

Book: Woven in Moonlight | Author: Isabel Ibañez | Publisher: Page Street Books | Published: 7th January 2020 | Pages: 384 | Genre: fantasy | TW: blood, murder, execution, violence
What did I think?
You know that feeling when you open a book for the first time and read the first few sentences and you already know that this is going to be awesome? Yes? That's how I felt with Woven in Moonlight. Somehow, the writing captured me from the first page, the scenario getting me right into the story. Long story short, I read this book in 3 days, ignoring responsibilities but it was just that good. Basically, when I wasn't reading, I was thinking about it. And when I wasn't thinking about it, I was telling my friends about it. So yeah, I guess I enjoyed this book very, very, very much. You probably wonder why.
I already mentioned the writing. It was just beautiful. So rich and detailed, I could feel and smell and taste the things described. Especially food descriptions made my stomach grumble. I also loved the Quechuan and Spanish words and names, it made everything so much more realistic and better.
And the characters! Ximena is such a great protagonist, thrust into a world of revolutions and corruptions, she sees the world in black and white, in Illustrian and Llacsan. But then the time is at her enemy's court is different from how she imagined it to be. Ximena is strong and willing to learn, she is a good fighter, both with her mind and with blades. And Isabel Ibañez really manages to let the reader feel close to her, to learn and develop with her. She grows so much during this story and somehow it made me feel better too? I don't even know why, I just felt like I found a friend in this book and especially in Ximena.
Then there are the characters at court. The most important being Rumi, a healer and relative to the king. He usually has a scowl on his face. You can guess it. He appeared and I got instant heart eyes. I swear, I can smell that enemies-to-lover and enemies-to-friends from 500m away. This! Is! My! Jam! I really, really liked Rumi and I loved his discussions/talks/arguments with Ximena even more.
Other important characters are Ximena's maid and guards whom she gets to know better and better. Their relationships are developing so well.
Another character that shouldn't be left out, is El Lobo, a masked vigilante. Nobody knows his identity and Ximena can only guess about his goals and plans. He is a variable neither Ximena nor the reader really knows how to categorize which leaves room for speculations.
And, of course, the king. Atoc is cruel and powerful and way too sure of his throne and his actions. He sees himself atop everyone else, losing sight of what it means to be a good ruler.
I also need to talk about the setting. The book is inspired by Bolivia, its politics and history and culture. It was amazing to read a fantasy book that was so different from the often used European Middle Ages setting. Woven in Moonlight is a book that talks about political issues, corruption and revolutions, both bloody and non-violent. It shows that the book is not black and white and it really explores the characters in depth and shows why they became the way they are. This story is also about friendships and love, principles and revenge and about learning and listening. It truly was an amazing book and this review will surely not be the last thing you've heard from me about it.
Rating: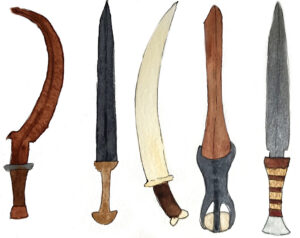 Thanks so much to Page Street Publishing for providing me with a review copy!