WERBUNG/ADVERTISEMENT
I got this book from the publisher in exchange for an honest review.
What is this book about?
Lei, the naive country girl who became a royal courtesan, is now known as the Moonchosen, the commoner who managed to do what no one else could. But slaying the cruel Demon King wasn't the end of the plan-it's just the beginning. Now Lei and her warrior love Wren must travel the kingdom to gain support from the far-flung rebel clans. The journey is made even more treacherous thanks to a heavy bounty on Lei's head, as well as insidious doubts that threaten to tear Lei and Wren apart from within.
Meanwhile, an evil plot to eliminate the rebel uprising is taking shape, fueled by dark magic and vengeance. Will Lei succeed in her quest to overthrow the monarchy and protect her love for Wren, or will she fall victim to the sinister magic that seeks to destroy her? (goodreads)

Book: Girls of Storm and Shadow | Series: Girls of Paper and Fire #2 | Author: Natasha Ngan | Publisher: Hodder & Stoughton | Publishing Date: 5th November, 2019 | Pages: 400 | Genre: Fantasy YA | Rep: lesbian, gay | TW: blood, self harm, murder, rape, death of LGBT+ person, PTSD, alcohol abuse
What did I think?
I already enjoyed the first book a lot, but this was even better. There was a lot of action, a lot of sarcasm and a lot of character development. And after the cliffhanger ending of Girls of Paper and Fire, this was exactly what I needed.
For the war against the king, the Hannos need allies. For that reason, a small group sets out to talk to clan leaders and win them for their side: Lei and Wren, Wren's teacher Caen, the shaman Hiro, the owl-demon Merrin and the leopard-demon-siblings Nitta and Bo. So. I love groups on quests. I love reading about their relationships and their dynamics and how they might change in certain situations. And Natasha Ngan did a really good job writing this group. All of them are such different characters, Hiro being quiet and mostly alone, Caen being the dad who hasn't got anything under control and the siblings wreaking havoc wherever and whenever they can. The group feels like a little family that grows closer but there are always secrets looming, as well as the war that is right before starting. There's a tension, in the group as well as the whole book itself, like a bowstring drawn, ready to be released. Because you as the reader knows there is something going to happen eventually. You know and it makes you nervous and fear for this group. I enjoyed the dialogues between the different people, the banter and the serious talks. Generally, this group is amazing and I fell a little bit in love with them all.
I also enjoyed the action scenes immensely. There was a lot of fighting, with hands and weapons and magic. They were fast paced and bloody and I could imagine it all really well, it felt like watching a film, seeing the characters run and stab and cry. And I think that the consequences of an (impending) war and the fights before were written well, as well as the consequences of betrayal, of loss and rape. The trauma felt raw and my heart hurt and I just wished I could help these characters. This book shows really well how differently people deal with bad things happening to them, how it may strengthen them or weaken them, how they affect the mind and body. And how they often affect not only people involved, but also their environment.
To sum this up, this book was a lot. It was dark, but also full of hope. The plot was fast paced and full of action, while still having a focus on the characters, which weren't perfect. But they were perfect for this story. I enjoyed this a lot, but I also felt a lot.
Girls of Storm and Shadow also had me thinking a lot. What makes a villain? When does one become a villain? What goal justifies hurting others? What makes us who we are? How do our actions affect other people, especially those we love?
Rating: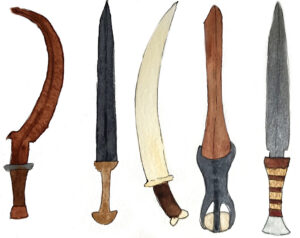 Thank you
to Hodder for providing me with a copy of this book!