Note: AD/Werbung: I received this copy from the author in exchange for an honest review.

An almighty power. A deadly choice. Will she come undone when chaos reigns?
After facing heart-breaking betrayals and jaw-dropping revelations in Akoris, Roh must steel herself once more and continue her quest to win the cyren throne.
But with poison lingering in her body and a new, unpredictable companion at her side, the trek to the mysterious territory of Csilla becomes all the more perilous. Dangerous schemes are afoot – ones that threaten not only the homeland Roh intends to rule, but all of cyrenkind.
As her journey stretches across the realm, Roh must navigate the dark web of her own ambition and master her newfound magic.
Will she triumph against the trials ahead – or sow the seeds of her own destruction?
Book: The Fabric of Chaos | Series: Curse of the Cyren Queen #3 | Author: Helen Scheuerer | Publisher: Alchemy Books | Release Date: 21.04.2022 | Pages: 522 | Genre: Fantasy | Rep: lesbian side characters, physical disability (born without one foot) | TW: loss of loved one, grief, animal torture

Oh, how I love returning to this world! It doesn't feel like three books, if you asked me I'd say I've known the world and its characters far longer. Returning to Roh and her group of friends really feels like coming home by now.
The group really has my whole heart. With all their flaws and longings and wishes and the bonds they have with each other.
While I feel with Roh and understand why she feels treated unfairly, I also understand why she has to go through all that stuff to get where she wants to be. Where she rightfully belongs. She's a young cyren who has no real knowledge of how the world works and is now forced to get to know it the hard way. I'm not saying that everything she has to endure is right, far from it. But I do enjoy seeing Roh grow with every obstacle, learning more about the world but also about herself and history and how it influences people. I can't wait to see Roh in full glory as a queen. Because a queen is what she is, look at that girl go, I love her.
I also love her companions. So much. They all have come so far, from hating each other and constantly being at each others' throats to friends that trust each other with secrets. Reading about them grow and their dynamics changing is just such a joy. I love to see how far they've all come and how each of them is very unique but how they function as a group anyways.
I devoured this book, as I did the previous ones. A thing I really love about this series is how the action scenes and quieter moments are nuanced. There is a lot of character development going on, while it never gets boring and I am just here soaking up every word. The pacing is just really, really good. I still feel like The Fabric of Chaos was more a bridge than book 2 was.
But ah, I love this series so much. I love the plot and its characters and the writing and just the whole ensemble. Curse of the Cyren Queen is easily one of my favourite series and I can't wait to see how the journey continues for Roh and her friends and who or what they have to overcome next.
Rating: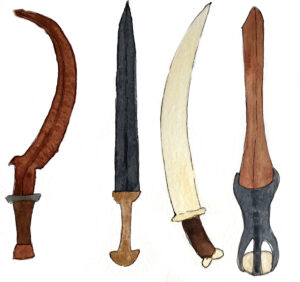 ---
You could also be interested in…
---

What are your favourite books about sirens or mermaids? And what are your favourite literary friendship groups?
---
Until next time,