I was extremely excited when I first heard about The River of Silver. More texts in the City of Brass world? Dreams do come true. Then I forgot all about it again until Anna posted about it on Instagram and I got ridiculously excited again. I ordered it, got it and started reading almost right away.
Synopsis:
Bestselling author S.A. Chakraborty's acclaimed Daevabad Trilogy gets expanded with this new compilation of stories from before, during, and after the events of The City of Brass, The Kingdom of Copper, and The Empire of Gold, all from the perspective of characters both beloved and hated, and even those without a voice in the novels. The River of Silver gathers material both seen and new—including a special coda fans will need to read—making this the perfect complement to those incredible novels.
A prospective new queen joins a court whose lethal history may overwhelm her own political savvy…
An imprisoned royal from a fallen dynasty and a young woman wrenched from her home cross paths in an enchanted garden…
A pair of scouts stumble upon a secret in a cursed winter wood that will turn over their world…
Now together in one place, these stories of Daevabad enrich a world already teeming with magic and wonder. From Manizheh's first steps towards rebellion to adventures that take place after The Empire of Gold, this is a must-have collection for those who can't get enough of Nahri, Ali, and Dara and all that unfolded around them.
Book: The River of Silver | Series: Daevabad Trilogy, companion | Author: S.A. Chakraborty | Publisher: Harper Voyager | Published: 13.10.2022 | Pages: 251 | Genre: Historical fantasy | TW: blood, self harm, death, murder, torture, rape (attempted, mentioned), alcohol | Rep: Black & Brown people, mlm, wlw, muslim
Yes, I was extremely excited about The River of Silver, but on the other hand I was nervous as well. The Daevabad Trilogy is one of my favourite trilogies and I didn't want to think any differently about it. But I needn't have worried. I love it even more. Please note that this review contains spoilers for the whole trilogy, but you also should read The City of Brass, The Kingdom of Copper and The Empire of Gold before reading The River of Silver. You need to know the characters already, as well as their background and what part they play in the story.
It felt so good returning to these characters and their magical world. I was so happy to read more about Nahri and Ali, and of course about Dara. But what I enjoyed most were the stories from other characters' PoVs. Especially the parental generation. I loved the glimpses into Manizhehs head and how she became what she is. I loved Hatset's first steps to queendom and most of all, I enjoyed Rustam and Duriya's beginning. I was actually quite sad when their story ended and… that just was it? There were no more pages for them and I had just begun to fall in love with them all over again.
I rarely read short stories for exactly that reason. I get swept away by stories very easily and I love getting to know characters, I love following their journeys. And I can't do that properly when there simply aren't that many pages. Nevertheless, I am so glad I got to read more. Don't get me wrong, the characters are already fantastically written in the original trilogy, but these little snippets just make them even more real. Maybe because we get to see all those different characters from many different perspectives. It brings a new spin to these characters. And despite me not liking some of them during the trilogy, I liked their stories and couldn't help but liking them as well. They truly helped me understand these characters even better.
With The River of Silver, S.A. Chakraborty has created another masterpiece. She manages to bring her characters to life again in so few words. But the words she writes are written with purpose, painting clear pictures of the people they describe. When I said this is one of my favourite trilogies, I want to now say that I love it even more. The River of Silver is a brilliant addition to the world of Daevabad, one that every fan should read.
Rating: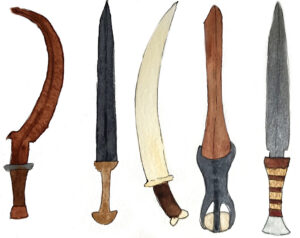 ---

Have you read The Daevabad Trilogy? If yes, come scream to me about it!
What are some of your favourite trilogies? Do you enjoy bonus content for finished series?
---
Until next time,