WERBUNG/AD
*This book was given to me by the author in exchange for an honest review*
What's it about?
Anger is an exiled god. Banished for rebelling against the Fate Court and jilted by the goddess he can't forget, he prowls the mortal realm with a bitter aftertaste on his tongue.
But Anger's not as alone as he thinks.
In a celestial city where the stars shine brightest, immortal outcasts reign.
Merry is one of them.
She's like no one Anger has ever met—a starry-eyed misfit hiding just as many forbidden secrets as he is.
As a revolution simmers between renegade deities and their ancient rulers, Merry is the key to Anger's retribution. She's the only one who can help him defy the Fates and reclaim his magic.
According to a dangerous legend written in the stars, she also has the power to mend his broken heart.
The price: In order to do that, he must break hers. (goodreads)

Book: Torn | Series: Selfish Myths #2 | Author: Natalia Jaster | self published | released: 20th June 2019 | pages: 326 | CW: graphic sex scenes, selfharm, scars
What did I think?
I absolutely loved the first story in this series, Touch, so of course I was hyped as soon as Natalia Jaster announced that there would be a second book (and more!). To be honest, I wasn't the biggest fan of Anger in this first book, but he grew on me a bit more in this one. And generally I enjoyed Torn, but there were a few things off for me.
The story is told from two perspectives, Anger's and Merry's. They're quite different, Merry's PoV is exactly what her name makes it out to be: merry, upbeat, sometimes a bit confusing, many thoughts and ramblings. Anger's is more held back, darker and calmer. Even when he actually gets angry, his chapters just have a much calmer atmosphere. I liked the differences, it was easy to distinguish the two characters.
Anger and Merry are opposites in almost everything. But you know how they say, opposites attract. While Anger takes his time to really, really notice Merry, for her it's instalove. When she see's him for the first time, they rescue each other and then she takes him home to care for him and immediately thinks about doing the do with him? Which I found a bit weird, but ok. Anger more or less flees from her endless chatter and right into Malice's arms. Malice is Merry's archenemy and seeks to get his power back and destroy Merry in the process. Anger reluctantly agrees to help but has his own motives. In winning and breaking Merry's heart, he and Malice will both get their powers back. But they haven't thought of Merry who has her own plan to get her powers and her true love.
So with everyone having their own goals, it gets complicated and twisted, everyone kind of helping each other while not really wanting to? Of course that causes a lot of drama and a lot of making up and some more drama, especially because Anger isn't over Love yet.
So yeah. I was a bit annoyed with Merry from time to time. She was hellbound on making Anger love her and with her whole optimistic, chatty character it was just too much. I couldn't really connect with her and her goodness. But as I said before, Anger grew on me. He's torn (lol) between his own needs, his past and what he thinks – no, knows – is the right thing to do. I could follow his actions and thoughts very well.
And I gotta say. I wasn't a fan of the body contact scenes. I mean, the sex scenes really were okay. But the kissing? Sorry, but no. I really, really don't need all these description of their tongues licking, flicking, fighting and doing god knows what else. And sucking on them. Eh, I'll pass.
What I really enjoyed though, was the writing. It was poetic and some points with beautiful descriptions and bringing this whole semi-magical atmosphere to life. I say semi-magical because the story is set in the real world, but a fictional city with deities. The whole atmosphere really was magical as well, I could imagine twinkling lights and laughing people and all those feelings in the air.
That said, I did enjoy the better part of the book, but there were some things I just couldn't ignore. I'll definitely read the thrid book though, because like Anger, Malice grew on me and I have a feeling that it's going to be enemies-to-lovers…
Rating: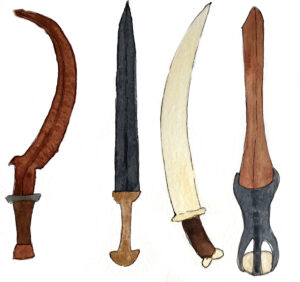 ---
Thank you, Natalia, for this ARC!