WERBUNG/ADVERTISEMENT
*I received this book in exchange for an honest review*
What is it about?
Kaylan's life as she knew it is over. Again.
Hunted by the guards of Edriast and their ruthless captain, Kaylan is forced to flee into a world she's never seen, armed with a power she never wanted. With her brother Elias by her side, she escapes to the distant city of Stynos, where rumour has it a possible ally is waiting… An ally who might help Kaylan control the violent magic that's become her burden to bear.
But Kaylan can't hide forever – not from the forces that surround her, or from the darkness inside herself. Rebel leader Bellamy seeks her help to destroy a regime; Captain Thorn pursues her with a vengeance; and as her power grows, her inner demons begin to seep through the cracks…
Kaylan may be strong, but is she strong enough to resist the Relic? (goodreads)

Book: Riven | Series: Relic Trilogy #2 | Author: Bronwyn Eley | Publisher: Talem Press | Release Date: 13.08.2020 | Pages: 492 | Genre: high fantasy YA/NA | TW: blood, death, violence, vomit, manipulation, sedation, addiction
⇒ read my review for the first book, Relic
⇒ read my interview with the author, Bronwyn Eley
What did I think?
Ok, wow. I already liked the first book in the series, but this one? Loved it! It was dark and bloody, full of action, intercepted by tender moments. It really was the perfect mixture for me. I love an action packed plot, paired with character development.
Riven picks up right where Relic ended. During the first half of the book, there is pure action, the characters don't really get a minute to sit down and rest, one incident happens right after the previous. The second half was a bit calmer and more focused on the characters and them understanding the world they live in, as well as understanding each other better. I liked how plot and characters worked together, how what was happening was really shown in how the characters reacted to things and how they were influenced.
Since the story is told from Kaylan's POV, we get to see her thoughts and opinions the best. And I think it was really well written how she struggled with herself, the Relic and the people around her. How she struggled to resist the Relic and how to keep her little group together, even with enemies within. Her dips into losing herself, but also her strong will to not let the Relic and her addiction to its power rule her were wonderfully contrasted. I really enjoyed her development as well, how she grows on everything she learns.
But I also loved reading about the other characters. I especially liked the Lord of Stynos who did not turn out how I expected him and I'm so glad about that! I liked how all of the characters were having some inner conflicts and how they all dealt with them differently. There were some new characters but we also met some dear ones already known.
I'm really looking forward to the third book because I have seriously no idea where exactly this is going. Might be a villain origin story, might be a dark hero, or something else altogether. I'm definitely excited about both the story and where the characters will end up!
Rating: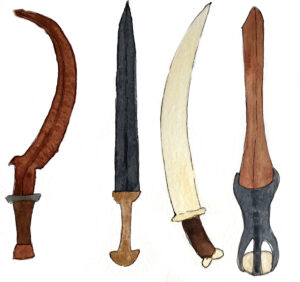 You're interested? You can buy the book on Amazon!