NOTE: I RECEIVED THIS BOOK FROM THE PUBLISHER IN EXCHANGE FOR AN HONEST REVIEW.
Hoohoo!

It's been a hot minute since I last posted. But I've been away on vacation (with not…a lot of internet available) and have had a bit of time to read. I finished The Stars Beyond the Stone while being away. It's the third book in the Price of Magic series by Bonnie Wynne which follows Gwyn, a young sorceress on her journey to free the world of ancient beings. Read on to find out what I thought about this instalment.
Find out my thoughts about book 1 (The Ninth Sorceress) and book 2 (A Wind from the Rift).
Click here for an interview with the author, Bonnie Wynne!
---
What is it about?
The Scions roam free, and only the sorceress can hunt them…
After the battle with storm god Molech Suun, a city is in ruins and a new Archmage holds the Syndicate's leash. But while Gwyn has accepted her fate – to hunt down and destroy the remaining Scions – her loyalty is still to her old master Faolan, held captive by a cunning necromancer.
Saving Faolan means leaving the wizards and the Clockwork City behind. With the shapeshifter Lucian at her side, Gwyn embarks on a dangerous journey across the sea, to lands where pirate kings rule and wild magic sings.
But sorceresses are heir to a dark legacy of blood – and Gwyn soon finds that she's the one being hunted.
The Scions want her dead, and a new enemy sends threats and warnings that can't be ignored. As Gwyn struggles to balance her desires and her destiny, she finds herself unprepared for what awaits her beyond the city walls. And far to the south, amid the ashes of a fallen kingdom, a familiar foe is setting deadly plans in motion… (goodreads)

Book: The Stars Beyond the Stone | Series: The Price of Magic #3 | Author: Bonnie Wynne | Publisher: Talem Press | Release Date: 16.09.2021 | Genre: Fantasy | TW: blood, self-harm (for magic), death
What did I think?
It was so good to be back in this world! I love the world Bonnie Wynne has created and I'm so glad to see more of it with each book. While we start out in the Clockwork City, we soon get to know more places, different from what what we've seen so far, isles and dangerous forests, caves and ships.
This is one of the things I like best about the whole series: the world and the world building. Not only is it a vast world, but we as readers get to explore so much of it along with the protagonist, Gwyn. We get to see all the different countries and what makes them unique.
Another thing I love about the story is Gwyn herself. I really like her journey, both the actual journey she goes on in the book and the character development. There are constant obstacles, but also good things that shape her into who she is and how she perceives the world and people around her. She is a very well written character who grows with her challenges.
I was also happy to see my boy Faolan again. Well, he's not a boy anymore but anyways, I love his grumpy character. I'm still not sure what to think of Alcide, one of Gwyn's companions. He's really a bit mysterious but exactly in the way I like it.
Every character in the story gets enough time to be properly developed and I can't wait to see where the story is going for each of them. Especially for Lucian, whose story took a turn I did not expect. I have to admit that the end made me… uhhhh… let's say distressed. I'm really curious to see how that works out but I HAVE HIGH HOPES OK.
The Stars Beyond the Stone was fast paced and had me really hooked. But, unlike the second book, it felt a bit like a filler, like leading to the next book. There are a lot of questions that need answers, like everything that happens on the Isles, the aforementioned Alcide, what the rest of the characters are up to, … It all felt a bit uncomplete and I was always expecting for something to come which just didn't (luckily, the series has more books to come!!)
I still enjoyed this book so, so much. It had me gripped from the very beginning and I was just so happy to visit Gwyn and her story again. With the minor issue of the book feeling incomplete, I wholly recommend reading The Stars beyond the Stone and its predecessors for magic and travelling and for wonderfully written characters!
Rating: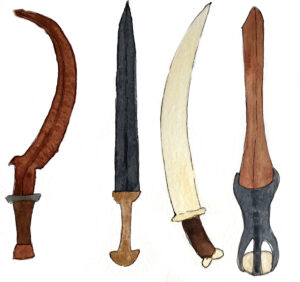 ---
---
Have you read one or more books in the Price of Magic series? If not, do you plan to? And which books with quests and journeys can you recommend?
---
---
Until next time,